'born2badbeat' Gets Instant Results, Chops Sunday Million
Imagine signing up for PokerStars and ten days later chopping the Sunday Million for six-figures. It sounds too good to be true, right? For one PocketFiver, that's exactly what happened.

In November, China's 'born2badbeat' was part of a four-way chop of the PokerStars Sunday Million. He managed to outlast all but one player in the 5,724-man tournament and earned $106,000, the third largest payday awarded.
"I can't believe it's true," 'born2badbeat' said. "It reminds me of Chris Moneymaker's score in 2003. I qualified for the Sunday Million for $11 and thought I had no chance of making the final table."
In China, the Sunday Million began at 6:00pm and finished several hours later. His road to a six-figure score included doubling up early on with aces and then again with kings. By the time the final table rolled around, 'born2badbeat' said he was dealt a few decent hands from the get-go.
"The money jumps made playing the middle and short stacks very hard," said 'born2badbeat'. "The big stacks attacked us again and again."
At one point in the Sunday Million, 'born2badbeat' was down to just three big blinds after losing with A-Q against 9-8 suited, but tripled up with pocket eights and doubled up shortly thereafter to stay afloat. His goal at the final table was to finish better than sixth. Not only did he do just that, but he nearly took the whole thing down.
Four-handed, 'born2badbeat' was happy to make a deal "because so much money was on the line." From there, two other players, 'buriedatsea' and 'kebabali', went busto, leaving 'born2badbeat' and 'dccnesquick' heads-up with nearly even stacks. In the end, he shoved with K-9, but ran into K-Q and was eliminated.
As he put it, "We love all-ins in China." Who doesn't?
As far as the money goes, 'born2badbeat' plans to buy a car for his wife and will use the rest to move into a bigger apartment. And oh yeah, they have a new addition to the family, which makes budgeting his winnings a little bit more important: "We have a baby who is nearly six months, so I want to get a small car that's safe."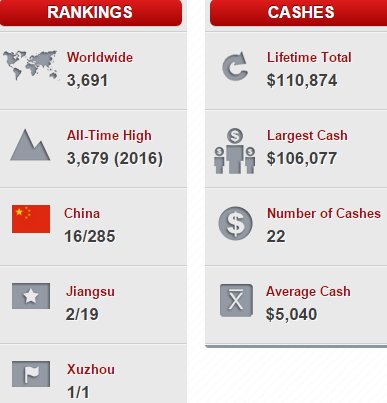 He's a newcomer to the poker scene and has only played on PokerStars for a few months. Prior to that, he played cash games on a local Chinese site. He explained how he moved from live to online.
"I have a part-time job, but the company was not doing well, so I decided to play MTTs. I heard about some Chinese people playing on PokerStars while we were playing in a poker club," said 'born2badbeat'. "The live game is not very safe in China since sometimes policemen say it's gambling." Therefore, he quickly gravitated online and experienced nearly instant success.
He went to the live poker club in the first place at the urging of a friend. He recalled, "At the beginning, I didn't even know how to play. We all entered for free and the grand prize was an iPhone. I loved poker after that, so I started to play in the club. The second time I went, I won the game and got an iPhone. During heads-up, my opponent was a good player and I only had one big blind left at one point, but I won it. Poker is like life: you have a chance if you don't give up."
There were two Chinese members of PocketFives at the final table of the Sunday Million that week: 'born2badbeat' and 'longdd886'. "I can't believe so many Chinese players were watching this final table," the second place finisher explained. "I told some friends that I got second and they were surprised. Many people asked me to coach them because they want to win on PokerStars too. This is good news for Chinese players. It will encourage more guys to play, but I hope that PokerStars can offer a fair, competitive environment for Chinese players.
Speaking of Chinese players, the China poker community on PocketFives is 623 members strong. 'born2badbeat' has the group's largest cash in the last three months and is already the 16th ranked player in the country.