Heads-Up with DraftKings Millionaire Maker Winner Cylus Watson (Cylusballin)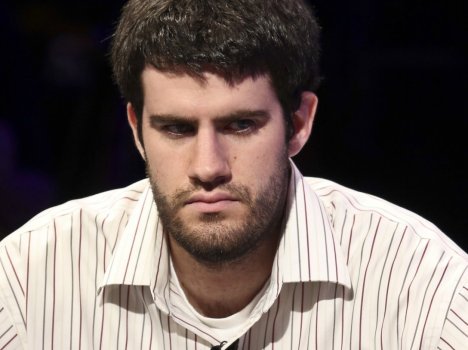 Winning the DraftKings Fantasy Baseball Millionaire Makerlast week in dramatic fashion was Cylus Watson (pictured), who is known on PocketFives as Cylusballin. He's a perfect example of a poker player hitting it big in daily fantasy sports, as he has $600,000 in online poker tournament winnings, another $400,000 in live events, and has received much support from the likes of 2015 WSOP November Ninemember Max Steinberg and his brother Danny.

He didn't just win the Millionaire Maker either. Instead, he had multiple lineups crack the top 10, including the coveted winning one. Check out DraftKings for details on ongoing baseball and football games.
PocketFives: Thank you for joining us. You won the baseball Millionaire Maker on DraftKings for $1.08 million. Tell us about that.
Cylus Watson: Danny Steinberg helped me a ton with my baseball lineups. I think he's one of the best fantasy baseball players out there. He helped me make lineups that day. I won $1.08 million and the same day, he won $300,000 on FanDuel. Then, it was his bachelor party, which was surprisingly tame given we had won all that money.
PocketFives: Can you talk about how Danny Steinberg helped?
Cylus Watson: It's nice to be able to say, "Here are my core guys. Who are your core guys? Who are your value picks today?" Just asking for their input and analysis is important. The DFS community is very similar to poker back in the day in terms of open information. As long as you're contributing something, people will help you with your lineups.
Teaching allows you to learn and I think that's common among this community. Their goal is to talk strategy all the time, so it's just like poker. I wouldn't have gotten into poker if I hadn't lived with Ben sauce123Sulsky and roomed with the Steinbergs. I randomly was matched up with Danny Stenberg in college and I taught Ben how to play poker.
PocketFives: Talk about crossing over from poker to DFS.
Cylus Watson: For me, it was about the Steinbergs. I was talking to Max (pictured) one day and he had been doing DFS for a year. I said the next time something like poker comes around, we need to get in there and make money before it dies. He said that "something" was DFS. It clicked when he said that.
I started taking it seriously and looking for edges. Professional poker players are good at spotting edges. Part of it for me was knowing I was a winner even though short-term results were swinging up and down.
PocketFives: What will change for you as a result of this?
Cylus Watson: That's what I've been trying to figure out. I'm going to keep playing DFS because I enjoy it and there's still money to be made. I'm excited for basketball season too. That's where I was learning DFS. That's when I improved the most. We were playing every day and developing software that helped me understand some of the theory behind DFS.
Playing every day and managing multiple lineups helped me learn how to create a portfolio of lineups as opposed to creating winning lineups. I'm trying to stay humble knowing I'm no better now than I was a week ago. I'm trying not to go crazy with my buy-ins and I'll stay within my bankroll.
I'm going to enjoy getting lucky too. I have had very few binks in my career. This is a pure bink: I turned $20 into $1 million in a game I'm not really good at.
PocketFives: What do you mean by creating a portfolio of lineups as opposed to creating winning lineups?
Cylus Watson: A lot of people think they should create the perfect Millionaire Maker lineup. That causes them to spend a lot of time making the lineup and making changes that minimally affect EV. I'm not afraid to use a guy in every lineup. A lot of people will have core guys they're playing and put them together in a core combination. I make sure it's the right combination.
The reason I had multiple top-ten lineups was because that was my bink day. My core guys hit home runs. Therefore, each of my lineups has the best possible combination of those players. I don't spend my time critiquing individual lineups. I spend time looking at who I have exposure to and whether they deserve the amount of exposure I'm giving them.
This week in football, for example, I played 500 lineups on DraftKings, 100 lineups on FanDuel, and 250 lineups on Yahoo and lost track of how much Julio Jones I had. He was probably in 60% of my lineups when he should have been in 30% or less. A lot of people stew over whether they should do Ameer Abdullah and Julio Jones or Bishop Sankey and ODB. It doesn't matter. As long as they have similar point expectations and similar upside potential, do both. Diversify your lineups.
Playing more lineups allows you to reduce your variance. Do as many lineups as you can. Never throw away a lineup you've been working on; put it in.
Want the latest poker headlines and interviews? Follow PocketFives on Twitterand Like PocketFives on Facebook.
Image courtesy CardPlayer