Industry Experts Critique Delaware Legalization of Online Gambling
Last month, Delawarepaved the way to legalize internet gambling within its borders. The First State lived up to its name, becoming the first state to legalize online games besides poker. Delaware Governor Jack Markell inked the bill into law in the final week of June and, according to the Los Angeles Times, its scope is extensive: "Casino games will be available to Delaware residents through the websites of the state's casinos, with betting controlled and monitored by the state Lottery Office."

Enter experts in the internet gambling arena in the United States, including Interactive Media Entertainment and Gaming Association (iMEGA) Chairman Joe Brennan (pictured). The iMEGA executive told PocketFives in an exclusive interview, "Delaware in the last few years has been very aggressive in developing new gaming options and restarting other gaming options. In 2009, Delaware took advantage of its status of being grandfathered under PASPA to restart sports betting, although on a limited basis."
Brennan has been focused on the push to legalize sports betting and online gaming across the river from Delaware in New Jersey. On the Garden State's prospects of legalized internet gambling, Brennan assessed, "It looks likely that New Jersey will adopt its own i-gaming bill this fall. Delaware is a corporate and financial center. When it comes to e-commerce, both in banking and credit cards, Delaware is a center for that. It's a somewhat intuitive fit. Online gambling is another element of the financial services industry."
Delaware seemingly came out of nowhere to legalize internet gaming and sites could launch early next year. Gaming will likely be restricted to those within the state's borders, but Brennan applauded, "Governor Markell has been very aggressive in trying to use the state's gaming industry and push it to be a leader. I'm not surprised that once Delaware started entertaining it, it got done quickly. They'll be pushing to leverage their status as the corporate capital of the U.S. and also a banking and credit card center to create jobs in the industry."
Also weighing in on Delaware's recent movement was Poker Players Alliance (PPA) Executive Director John Pappas (pictured), who explained to PocketFives, "The Delaware law marks a significant step for state-based licensing of internet poker. The state's lawmakers should be applauded for putting Delaware on the leading edge of the i-gaming revolution in the U.S. It also sets a precedent for the lottery to seize sole control of the industry without allowing for a competitive marketplace."
Pappas cautioned, "While we are please to see progress in Delaware, we remained concerned that state-by-state regulation will not deliver optimal outcomes for players, state governments, and the industry as a whole." According to the U.S. Census, Delaware has fewer than one million residents.
PPA Vice President of Player Relations Rich TheEngineer Muny gave his two cents: "I am encouraged to see states having the wisdom to allow their citizens to play the great game of poker in their own homes on their own internet connections. While the legislation is not all that we would like as players, it shows that grassroots activism is effective. I hope their action will help spur the Federal Government into taking action on legislation licensing and regulating online poker."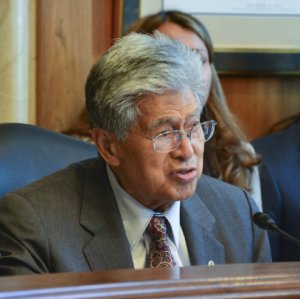 Speaking of the Federal Government, on Thursday, the Senate Committee on Indian Affairs held its third hearing in the last year addressing how internet gambling will affect Tribes. Although no markup or legislative action took place, it was revealed that Committee Chairman Daniel Akaka (D-HI, pictured) had drafted a Tribal online poker bill. Passage of any bill will likely not take place until the "lame duck" session of Congress later this year.
Finally, PocketFives reached out to eGaming Brokerage's Sue Schneider, an industry veteran, who assessed, "I think it's pretty exciting. The Governor of Delaware has been very supportive publicly and seems to 'get it.' The existing terrestrial operators there have been educating themselves and I think they'll be prepared to hit the ground running."
We'll keep you posted on the latest poker legislation news right here on PocketFives.