NUMBER CRUNCH: Looking Back at Poker in 2016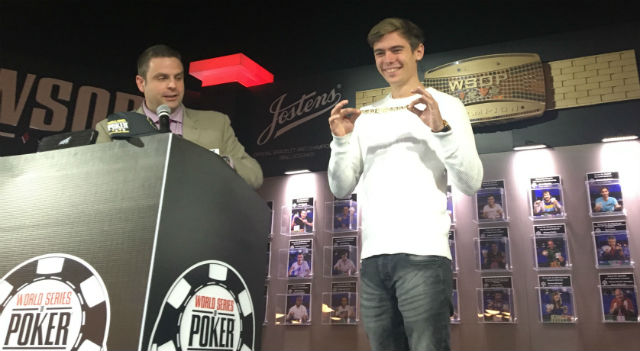 Many are reflecting back on the year and suggesting 2016 is a year we might want to forget. Do not let the celebrity deaths or endless talk of politics keep you from remembering some of the happier storylines the past year had to offer though. It was a memorable year in poker with countless tournaments, feuds, prop bets, cash games, and big stories. We can't count all of big headlines of 2016, but we can relive a few of the biggest stories in this year-end edition of Number Crunch.
10 – Number of cashes for Chris Ferguson at the 2016 WSOP. The Full Tilt Poker co-founder had been absent from poker's biggest stage since 2011, but both he and Howard Lederer decided it was time to return to the tables this summer. Not only did Ferguson return, he cashed every couple of days. Extra security appeared to be added when he final tabled one event, but other than some verbal barbs, there were no serious altercations for the man many consider to be partially responsible for the downfall of what was once one of the biggest online sites in poker. Ferguson won over $250,000 over the course of the summer, while Lederer failed to cash at all.
15 – Number of seasons Poker Hall of FamerMike Sextonhas co-hosted the World Poker Tour alongside Vince Van Patten. Sexton's list of WPT accomplishments are not just behind the commentator's desk. He is now a member of the WPT Champion's Club too, taking down this season's fall Montreal event for over $450,000. Sexton final tabled the Bay 101 Main Event in 2011, but exited in sixth place. This time around, he was around to the very end, but instead of toasting the champ, it was the Champ getting toasted.
17 – Finishing position in the WSOP Main Event for William Kassouf. The Brit may not have made the November Nine but, like a boss, his personality loomed large over the ESPN coverage of the tournament this year thanks to his endless table banter and altercation with Canadian pro Griffin Benger. His table talking sparked many online debates about table etiquette, with top pros both condemning and commending the behavior. Kassouf did not go quietly into the night after his finish though. He was back in the news in December after agreeing to chop the European Poker Tour Prague High Roller event, taking less money than second place, but taking home the trophy and posing for the winner photo.
28 – Number of High Roller tournaments hosted by the Aria Casino in 2016. With buy-ins ranging from $25,000 to $350,000, the Aria offered a steady supply of big buy-in small-field events for the poker elite. Not only did the events, which were frequently packaged back-to-back over a single weekend, bankroll boosters to some of the biggest names in the game, they also made Las Vegas a destination for live high stakes action again. If there were questions about whether or not the High Roller circuit was oversaturated, based on the success of the Aria's scheduling, the answer appears to be no, at least for now
345 – Combined number of @ mentions on Twitter in the month of December for Cate Hall and Mike Dentale. In a year of many Twitter beefs, theirs took the cake, with Dentale sending 274 Tweets with her handle it and Hall sending 71 with his in a back and forth exchange that began with Dentale critiquing how Hall played a hand in the World Poker Tour Five Diamond Main Event. The trash talk escalated enough for Poker Night in America to turn it into a heads-up battle to be played out in March at Sugarhouse Casino in Philadelphia.
52,986 – Dollars in career tournament earnings for Qui Nguyen before winning the 2016 World Series of Poker Main Event. Once he won the biggest tournament of the year, that number rocketed to over $8 million. He is the first amateur since Jerry Yang in 2007 to win the Main Event.
1,800,000 – Dollars Jason Merciersupposedly stood to earn after a hotly debated bracelet bet with Vanessa Selbst. As the story goes, Selbst offered Mercier 180-1 odds he could not win three bracelets in a single summer. The eventual WSOP Player of the Year certainly gave Selbst a sweat, winning two bracelets and making four final tables. He got oh-so close, finishing second in the $10,000 Razz event, but failed to cash in on many lucrative bets he would not threepeat.
4,360,000 – Approximate number of viewers who tuned in to watch David Williams compete in the MasterCheffinale on Fox. A foodie in addition to a poker pro, Williams made quite a run on the Gordon Ramsay reality show, making it all the way to the very end. Much like the 2004 Main Event though, he was a bridesmaid, not the bride, and had to settle for finishing as one of the two runners-up.
4,981,775 – Dollars won by Fedor Holz in the $111,111 buy-in One Drop High Roller at the WSOP. Shortly after accepting his bracelet, Holz announced his retirement. After all, he had a busy six weeks crushing just about everything he played and raking in over $10 million, starting with a second-place showing in the Aria Super High Roller Bowl for $3.5 million and ending with a bracelet. So far, retirement looks an awful lot like the working world for the young German though. In August he won the EPT Barcelona Super High Roller for almost $1.5 million.
10,100,000 – Dollars Phil Ivey and his friend Cheung Yin Soo have to pay the Borgata Resort and Casino according to a December ruling from a federal judge. The sum is the total of his winnings across four sessions of baccarat in 2012 and the money he took to a craps table and ran up into $500,000. Ivey and Soo were "edge-sorting", which means they used imperfections in the manufacturer's design of a deck of cards to determine which cards were which. While not explicitly cheating, the judge did deem the actions to be a violation of the agreement between gambler and casino and ordered the eight-figure judgment.