PokerStars PA Soft Launch Day 1 Live Blog: Pennsylvania Online Poker Is Live
Online poker players in Pennsylvania have to wait no longer. Monday, November 4 is Day 1 of the two-day soft launch period for PokerStars PA. This story will be updated throughout the day.
Update 10:00 PM: Day 1 of the soft launch is in the books. We'll be back tomorrow for more coverage of Day 2!
Update 9:25 PM: Time may be winding down for the night but that's not stopping 'breakfastball' and 'pittfan80' from battling heads up in the $4/$8 Eight Game Mix.
Update 9:11 PM: Longtime PocketFiver Gilbert 'YourPokerPastor' Thurston was one of the first players to log on today and he's looking forward to everything that PokerStars PA will bring. Read: Gilbert 'YourPokerPastor' Thurston Finds Sheer Joy In PokerStars PA
Update 9:04 PM: We enter the last hour of Day 1 of the soft launch with the player pool hovering right around 700.
Update 8:40 PM: Registration closed in the $20 Moonlight Express with 173 entries making it the biggest tournament of the first day of the soft launch. With a total prize pool of $3,252.40, it surpassed the Hot $20 from earlier with 147 entries and a $2,675.40 prize pool.
Update 8:00 PM: Just before 8:00 PM, PokerStars PA saw 700 concurrent players for the first time. After dipping back down for a minute or two, the number climbed back over the mark at the top of the hour.
Update 7:30 PM: Taking another look at the player pool, at 7:30 PM there were more than 665 players battling in real money games.
Update 7:16 PM: Registration just closed in one of the two $1,000 guaranteed tournaments on Monday's schedule and the event easily surpassed that number. A total of 147 entries in the Hot $20 Turbo created a total prize pool of $2,675.40. First place will pay $557.51.
Update 7:02 PM: 604 players.
Update 7:00 PM: There were 590 real money players online at 7 PM. If everything stays the course we should see 600 in a few minutes.
Update 6:52 PM: Even in PA, PKO's are popular. The $10 NLHE Progressive Knockout closed registration with 166 entries (119 players, 47 re-entries) and a $1,510.60 prize pool.
Update 6:44 PM: PokerStars ambassador Jennifer Shahade held the chip lead with six players left in the Hot $10. In the end, the Women's Chess Champion settled for a third-place finish collecting $158.56…right from her home outside of Philly.
Update 6:37 PM: Just cleared 500 players online.
Update 6:30 PM: We are keeping tabs on how many real money players are on the PokerStars PA site during peak hours. At 6:30 PM there were 484 players on the site.
Update 6:16 PM: The biggest NLHE game running is the $2.50/$5 game. There are currently two tables going with 'ToddLaxmen' and 'FarWomenTellAll' doing a little multi-tabling and 'TeamVillage' currently sitting with over $1,400 behind.
Update 6:08 PM: While we were putting together that last update, the number of players playing real money games soared past 400.
Update 6:07 PM: The $5 PLO MTT [Six Max, Turbo] had a total of 46 entries (30 players, 16 re-entries) with the top seven placed getting paid. Players were in the money just before the re-entry period expired.
Update 6:00 PM: There are 392 players playing for real money as the clock hit 6pm ET.
Update 5:48 PM: In the first PokerStars PA MTT 'SugarDaddyPA' and 'Stonks_Are_Up' agreed to a deal that saw each player turn their $5 buy-in into at least $110.88.
Update 5:40 PM: One of the benefits to the PokerStars client is how many games they offer. While the majority of the action on Day 1 has been in NLHE, PLO or in the MTT's, a heads up battle between 'veedubs23' vs. 'cardfan42' is taking place at the $3/$6 Limit Stud tables.
Update 5:33 PM: It's worth mentioning that PokerStars popular Zoom cash games are not a part of the Day 1 soft launch.
Update 5:13 PM:  The second tournament of the day was The Hot $10 [Turbo] and it easily smashed its $500 guarantee as 111 players (and 37 re-entries) generated a prize pool of $1,346.80.
Update 4:57 PM:  Online poker is back in Pennsylvania…and so are those bad beats!
Busted first ever post Black Friday regulated PA tourney in heart breaking style but ITM. I have over 600k in online cashes but this $9.08 feels so good! #WelcomeBack #RegulatedAtLast pic.twitter.com/xYz1BFyb48

— Gilbert Thurston (@YourPokerPastor) November 4, 2019
Update 4:33 PM: We have our first final table.
Update 4:23 PM:  Currently, the biggest cash game being played is a heads up match between 'Ruff Ryder 1976' and 'ToddLaxmen' at $5/$10 No Limit Hold'em.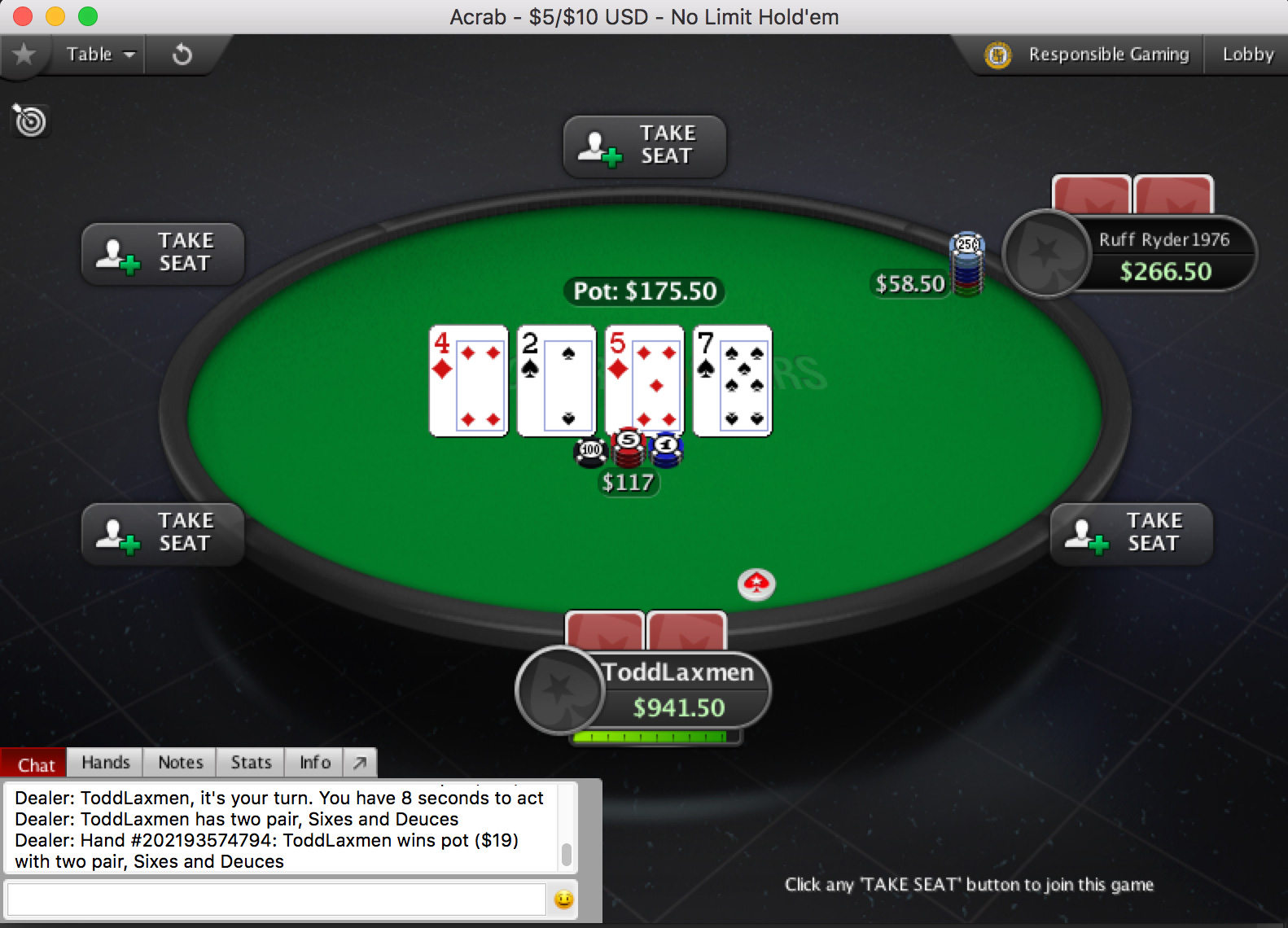 Update 3:54 PM: Almost two hours into Day 1 of the PokerStars PA soft launch, there are 245 players playing for real money, either in cash games or MTTs.
For comparison, when PokerStars NJ launched on March 21, 2016, there were 62 players playing cash games two hours in and no MTTs had started yet. (Note: It was also 8:30 AM).
Update 3:41 PM: Registration is now closed in the first-ever MTT in PokerStars PA history with 140 entries, 52 of which were re-entries.
PokerStars PA ambassador Jennifer Shahade is in the field as is longtime PocketFiver Gilbert 'YourPokerPastor' Thurston.
First place pays $142.79. Here's a look at the complete payouts:
Update 3:00 PM: If you're unable to access PokerStarsMtAiryCasino.com to download the client, try using a private browser or clearing your cache. Some users have said this worked.
Got it to work…I had to clear my cache and cookies…thanks!

— Gilbert Thurston (@YourPokerPastor) November 4, 2019
Update 2:45 PM: The very first multi-table tournament starts at 3 PM EST. The $5 buy-in No Limit Hold'em Turbo event currently has six players registered.
There are 12 tournaments scheduled for Day 1 of the soft launch:
| | | | | |
| --- | --- | --- | --- | --- |
| Start Time | Game | Buy-in | Name | Speed |
| 3:00 PM | NLHE | $5.00 | NLHE Turbo | |
| 4:00 PM | NLHE | $10.00 | The Hot $10 – $500 GTD | Turbo |
| 5:00 PM | PLO | $5.00 | PL Omaha | |
| 6:00 PM | NLHE | $10.00 | Progressive KO | |
| 6:30 PM | NLHE | $3.00 | Time Tourney: 45 Minutes | Turbo |
| 6:30 PM | NLHE | $20.00 | The Hot $20 – $1,000 GTD | Turbo |
| 7:00 PM | NLHE | $5.00 | NLHE Turbo | |
| 7:00 PM | PLO | $10.00 | PL Omaha | |
| 7:30 PM | NLHE | $3.00 | Time Tourney: 45 Minutes | Turbo |
| 8:00 PM | NLHE | $20.00 | Moonlight Express – Early Edition – $1,000 GTD | Hyper |
| 8:30 PM | NLHE | $3.00 | Time Tourney: 45 Minutes | Turbo |
| 9:00 PM | NLHE | $10.00 | Time Tourney: 45 Minutes | Turbo |
Update 2:25 PM: The first bonus offers are fairly basic and will look familiar to anybody who has played in New Jersey:
First deposit bonus offer of $30 free play by using promo code 'FREE30'
100% deposit bonus up to $600
There is also some freerolls to help get things kicked off:
Daily $1,000 welcome freerolls from Nov 7 to 16
$20,000 welcome freeroll on November 17
Update 2:23 PM: PokerStars PA is live!
The good folks at PokerFuse managed to catch the very first hand:
And the first hand is dealt! pic.twitter.com/5PpGMaY99q

— pokerfuse (@pokerfuse) November 4, 2019
Update 2:12 PM: Don't worry, Pennsylvania online poker players. None of the sportsbooks in your state managed to launch right on time either. PokerStars PA will be live soon.
Update: 2:00 PM:  More than two years after online gaming regulations were passed in Pennsylvania, the first online poker site now has cards in the air. PokerStars PA went live at 2 PM for Day 1 of a two-day soft launch testing period required by the Pennsylvania Gaming Control Board.
"We're excited to launch PokerStars as the first and currently the only online poker option available to players in Pennsylvania," said Matt Primeaux, President, FOX Bet. "Including today's launch of our highly rated casino product, which is now available in the FOX Bet and PokerStars apps, we're proud to say we're currently the only online provider offering all three forms of regulated gaming in the Commonwealth of Pennsylvania."
PokerStars PA is available Monday, November 4 from 2 PM until 10 PM EST and Tuesday, November 5 from 2 PM until Midnight. Players can download the client from PokerStarsMtAiryCasino.com and it is also available for iOS and Android devices.
PokerStars is partnered with Mount Airy Casino Resort and they're excited to be working alongside the world's largest online poker operator on a groundbreaking day for the Keystone State.
"We're constantly investing in our player experience, and in 2019 that means going beyond brick and mortar improvements to bring customers one of the most exciting gaming options available," said Todd Greenberg, Chief Operating Officer and General Manager at Mount Airy Casino Resort, FOX Bet's partner in Pennsylvania. "Through strategic partnerships like our affiliation with PokerStars, Mount Airy is committed to offering the most cutting-edge gaming experience possible."
Quite possibly one of the most excited with today's launch is PokerStars Ambassador Jennifer Shadade. The Pennsylvania native is finally able to play legal online poker from the comfort of her own home.
"Finally, PokerStars is available in my hometown and I couldn't be more thrilled," said Pennsylvanian and PokerStars Ambassador, Jennifer Shahade. "Players in Pennsylvania have been looking forward to this day, and I can't wait to be a part of all the action. Hope to see many of you on the tables!"
Update 1:20 PM: PokerStars PA will be available to all online poker players in Pennsylvania from 2 PM until 10 PM EST.