WSOP 2021: Brian Yoon Wins Triple Draw Championship, Anatolii Zyrin Conquers the Colossus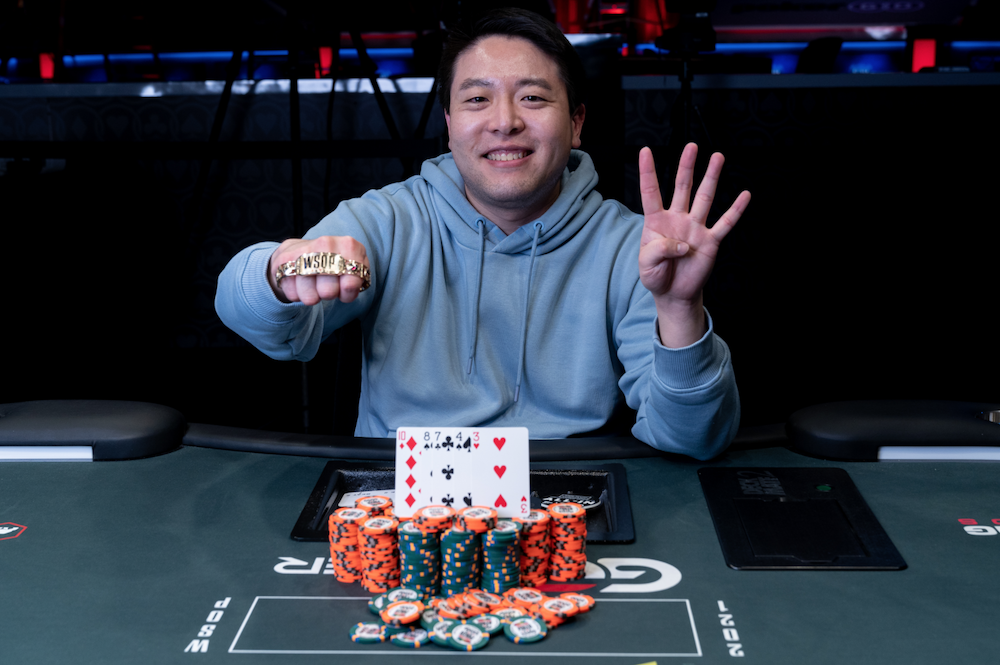 The 33rd day of action at the Rio Hotel & Casino in Las Vegas produced two more WSOP bracelet event winners as Brian Yoon and Anatolii Zyrin both claimed gold for the fourth and second time respectively. For Brian Yoon, it was a 2-7 Lowball Triple Draw victory that saw him overcome the chip leader heading into the final seven, Danny Wong.
Yoon Topples Wong after Epic Three-Handed Action
With seven players remaining, Wong led with just over 1.5 million chips, with Yoon trailing him on 1.25m. It took almost no time for the first player to be busted, albeit a short time after an extended period of play that had seen 'Crazy' Mike Thorpe busted in eighth place to bring about the final table.
Jordan Siegel was the unlucky player to leave in seventh for $31,690 when his hopes were ended by the runaway chip leader Wong. The winner in that hand almost instantly claimed another scalp, taking out the talented Brandon Shack-Harris for a sixth-place finish worth $41,270. Shack-Harris, who has cashed on multiple times this series and has been one of the under-the-radar stars of the 2021 WSOP, crashed out with a rough nine eclipsed by Wong's rough eight.
Six became five when Joao Vieira busted for $54,993, as Brian Yoon began his ascent to the top of the leaderboard. Wong was still winning more pots, however, and looked destined for the win such was the rate at which he was raking in chips. Don Nguyen let in fourth for $74,939, before his conqueror, Wil Wilkinson, was busted in third for $104,381 after a period where each of the three remaining players held the lead.
By the time Wilkinson busted in third, it had been hours since Nguyen's elimination. A dinner break, multiple exchanges of the chip lead and just two remained for the bracelet battle. Wong had the lead with 3 million chips to Yoon's 2.3m, but Yoon's experience told as the multiple bracelet winner applied pressure on Wong, who remains without gold despite this closest of calls.
Wong had the chance to double back in drawing one with seven-high against Yoon's ten-high completed hand, but a king as his fifth card finished off Wong to give Yoon the bracelet and top prize of $240,341, Wong consoled in some small part by the $148,341 runner-up prize.
WSOP 2021 Event #57 $10,000 2-7 Lowball Triple Draw Final Table Results:
Brian Yoon – $240,341
Danny Wong – $148,341
Wil Wilkinson – $104,381
Don Nguyen – $74,939
Joao Vieira – $54,993
Brandon Shack-Harris – $41,270
Jordan Siegel – $31,690
Zyrin Wins Second Bracelet after Colossal Victory
Anatolii Zyrin won the $400-entry Colossus to claim the massive $314,705 top prize and his second WSOP bracelet after beating Michael Lee heads-up. Heading into the final, it was Lee who held a big chip lead, but the dangerous Zyrin hovered in the middle of the pack and came through in the final stages to claim victory.
It was Penh Lo who was the first player to bust the nine-handed final table, busting in ninth for $32,240. Lo was all-in with
but couldn't hold against Eric Kim's
as the board played out
and gave Kim a big stack too.
With eight players remaining, Lithuanian player Vincas Tamasauskas was sent home by the leader after misfortune on the river. Raising for all but one chip pre-flop, Tamasauskas had
and was called only by Lee with
Jh], with Tamasauskas tossing in the final chip on the flop and getting a quick call.
The board of
was a brutal one for the Lithuanian to take, with Lee's rivered jack sending him home for $40,885.
By the time the next player busted, Lee was still leading, but Zyrin had risen almost to the top of the chipcounts, even after Lee's
was enough to see off Martin Gavasci in seventh for $51,180 when Gavasci's
was dominated to defeat, a king on both turn and river improving Lee's advantage of the rest of the field.
At that stage, Zyrin was spiking, losing one pot then winning an even bigger one, but some players' stacks were going in only one direction and Eric Kim slid out of contention when his
couldn't hold against Zyrin's
, the board of
paying the eventual winner off in a crucial flip. Had he lost it, Zyrin would have been very short, but instead, he suddenly looked a massive threat to others' hopes.
Zyrin was starting to build momentum and wasn't done with the eliminations, immediately taking out another opponent, David Ripley, in fifth for $86,650. Ripley – believe it or not – was all-in and at risk with
, but Zyrin held
and with his foe down to four big blinds, hoovered them up after the
board played out.
Phuoc Nguyen had been quiet for some time, but couldn't afford to hang about with the blinds escalating. His last chips went into the idle pre-flop with
, but he had run into a monster, with Kevin Rand holding
and no help came to save Nguyen, who busted in fourth place for $112,730.
Three-handed play lasted some time, but Rand was always playing catch-up to both Lee and Zyrin and despite doubling on several occasions, couldn't keep doing so. He bowed out for a result worth $147,595 when his all-in with
started ahead of Zyrin's
but ended behind on the tantalizing board of
.
Zyrin won that hand and in doing so went into the heads-up battle with 235 million chips, a considerable chunk more than Lee's 140 million at a big blind of 6,000,000. Despite some brave attempts to play back and double into the lead, Lee's stack went south and when a flop of
came, Lee bet holding
, getting a call from Zyrin. The turn of
saw both players check, but on the
river, Zyrin check-shoved a big bet from Lee and when the latter called, he saw that his rivered straight was no match for Zyrin's turned flush as the Russian held
.
While Lee collected $194,450 for finishing as runner-up, he'd failed in his attempt to win his first WSOP bracelet, instead seeing Zyrin win his second and the top prize of $314,705.
WSOP 2021 Event #55 $400 Colossus Final Table Results:
Anatolii Zyrin – $314,705
Michael Lee – $194,450
Kevin Rand – $147,595
Phuoc Nguyen – $112,730
David Ripley – $86,650
Eric Kim – $67,025
Martin Gavasci – $51,180
Vincas Tamasauskas – $40,885
Penh Lo – $32,240
Slaughter Leads Super Seniors
It was a massive Day 2 of the Super Seniors Event, with just 65 players remaining at the close of the action. There were some very big names in the field on the day the money bubble burst, but while some made the cut, such as Sammy Farha, James Hess and Dan Shak, others such as Barry Greenstein and Karl Pregitzer didn't, the latter losing to Farha along the way to the 2003 WSOP Main Event runner-up making the money.
With two days of the event to go, Slaughter (1,835,000) will be chased keenly by his nearest challengers Randall Bolick (1,755,000), and Bill Stabler (1,725,000) in the coming levels, with play expected to go down to the final table on Day 3.
WSOP 2021 Event #58 $1,000 Super Seniors Top 10 Chipcounts:
David Slaughter – 1,835,000
Randall Bolick – 1,755,000
Bill Stabler – 1,725,000
Reginald Powell – 1,565,000
Andrew Bodewin – 1,355,000
Jean-Luc Adam – 1,140,000
Robert Chow – 1,100,000
David Smith – 1,080,000
Steve Miller – 1,025,000
Joseph Neiman – 975,000
Tag Team Down to Ten Teams as Weisner and Liu Lose Out
There are just ten teams left in the $1,000-entry Event #59, the Tag Team event which sees teams of two players take over from each other when their comrade is against the ropes. On what was a very busy day, only 10 teams of two would stay in the hunt by the close of Day 2, with players such as Melanie Weisner and Xuan Liu falling by the wayside albeit after a great run.
Well @xxl23 and I finished the #WSOP tag team in 18th. Couldn't close it out for the @joinpokerpower ladies (although all my chips did go to a lady!) but it was great to finally play this event & definitely the most fun I've had this series. Thanks for being a great partner Xuan!

— Melanie Weisner (@melanieweisner) November 2, 2021
Others fell to the same fate, with PokerGO presenting team Brent Hanks and Jeff Platt shot down when their pocket kings ran into pocket aces to bust.
The duo, who dressed as Daniel Negreanu and Phil Hellmuth throughout, would not make the top 10, but Michael Newman and Robert Ormnt did, bagging up the lead with over 2.9 million chips, far and away the biggest stack with their nearest foes Tomer Wolf and David Landell some way back on 1.9 million.
WSOP 2021 Event #59 $1,000 Tag Team Final Table Chipcounts:
Michael Newman and Robert Ormont – 2,960,000
Tomer Wolf and David Landell – 1,900,000
Mike Ruter and Samy Dighlawi – 1,700,000
Holly Babbitt and Michael Babbitt – 1,345,000
Alfie Adam and Vidur Sethi – 1,315,000
Benjamin Miner and Dmitriy Uskach – 1,065,000
Zachary Erdwurm and Steven Jones – 850,000
Amanda Botfeld and David Botfeld – 790,000
Scott Johnston and Bob Fisher – 455,000
Mike Lutz and Matt Krebs – 430,000
Paul Volpe, Jungleman Top $50K PPC Day 2
The second day of action in the $50,000 Poker Players Championship took place at the Rio and in particular, one player was less than happy with their exit. With 44 players beginning the day, Phil Hellmuth was one who joined the field late to eventually swell the numbers to a total of 63 entries. Things did not go to plan for the Poker Brat.
1 Lost a hand that makes me want to cry, physically cry. [I know I'm too intense when it comes to poker!] Been taking bad beats for 10 days, but, didn't complain (didn't post them) because I started @WSOP w 5 final tables, and, thus, not allowed to complain, until now:

— phil_hellmuth (@phil_hellmuth) November 2, 2021
With just 35 players remaining in with a chance of winning one of the most coveted bracelets at this or any World Series of Poker, Paul Volpe (1,092,000) leads the field from Dan 'Jungleman' Cates (944,000) and Adam Friedman. Plenty of other big names litter the leaderboard, of course, with Daniel Negreanu worth singling out for mention, purely because of the way he has made Day 3 of the event.
Down to just 77,000 overnight with no option of rebuying, Kid Poker survived on a big stack of 655,000. With no Shaun Deeb making the cut, 'DNegs' could be one to watch as the tournament progresses as players battle to get their hands of the Chip Reese trophy.
WSOP 2021 Event #60 $50,000 Poker Players Championship Top 10 Chipcounts:
Paul Volpe – 1,092,000
Daniel 'Jungleman' Cates – 944,000
Adam Friedman – 913,000
Alex Livingston – 872,000
Chris Vitch – 849,000
George Alexander – 820,000
Brian Rast – 790,000
Yuval Bronshtein – 775,000
Chad Campbell – 764,000
Nick Schulman – 723,000
Deepstack Championship Gets Underway
In Event #61, the $600-entry Deepstack Championship, Robert Hankins grabbed the chip lead with 868,000, though this is one of the slimmest leads for some time in 2021 WSOP Events. Hankins leads by a three-bet from Samuel Taylor (838,000) and Radoslav Stoyanov (830,000), with others such as KC Vaughan (743,000) and Ping Liu (702,000) also well placed in the top 10.
WSOP 2021 Event #61 $600 Deepstack Championship Top 10 Chipcounts:
Robert Hankins – 868,000
Samuel Taylor – 838,000
Radoslav Stoyanov – 830,000
Dhaval Mudgal – 786,000
Justin Arnwine – 779,000
KC Vaughan – 743,000
Matas Budginas – 719,000
Ping Liu – 702,000
Nissar Quraishi – 687,000
Alan Ferraro – 686,000
Toma Tops $1,500 PLO Leaderboard
In tournament terms, the last event to take place on the schedule was Event #62, the $1,500-entry PLO8 event, which saw Japanese player Tsugunari Toma pile up one of the biggest Day 1 leads of the series. Toma amounted 1,076,000 chips, by far and away more than anyone else and almost as much as his nearest three challengers combined stacks.
Day 2 will see the play whittle down to just a handful of players, so watching exactly how Toma gets on will be vital as it looks like anyone who wishes to play for the win will have to go through him first.
WSOP 2021 Event #62 $1,500 PLO Omaha Hi-Lo 8 or Better Top 10 Chipcounts:
Tsugunari Toma – 1,076,000
Steve Chanthabouasy – 393,000
Paul Holder – 380,000
Maury Barrett – 373,000
Michael Trivett – 342,000
Raymond Henson – 339,000
Sean Remz – 333,000
Nathan Gamble – 328,000
Andrew Yeh – 318,000
Dustin Dirksen – 314,000
Finally, with the World Series of Poker just a matter of two days away, one former champion in particular can't wait to get into the mix and will hope for some cheers of 'Aussie, Aussie, Aussie!' to echo around the Rio one more time.
Its's nearly that time again @wsop #aussieaussieaussie pic.twitter.com/eRFcCZveWL

— Joe Hachem (@JosephHachem) November 2, 2021