WSOP 2023: Chad Eveslage Wins Second Bracelet, Polk and Tice Both Advance in Heads Up Championship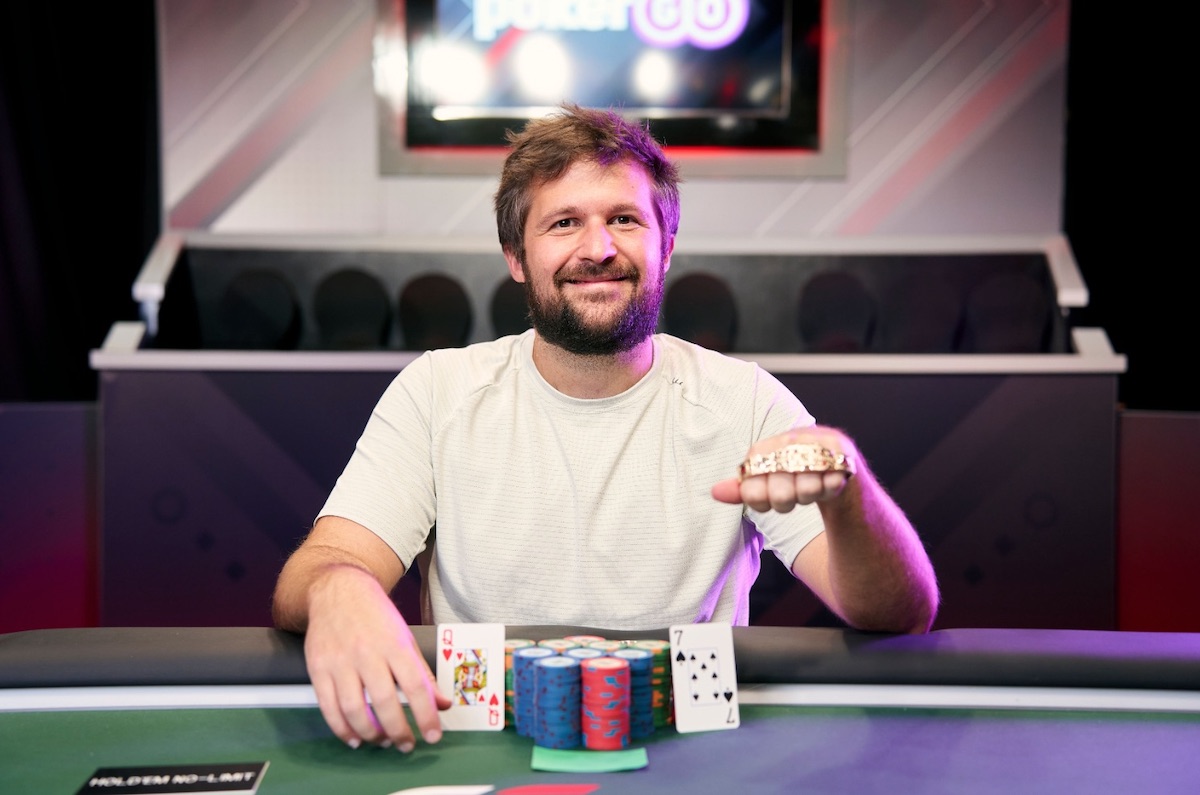 A thrilling fourth day of the 2023 World Series of Poker saw two bracelets won and five other WSOP bracelet events move closer to the final stages of their tournaments. Chad Eveslage and Michael Mocek both won gold in Dealer's Choice and Mixed NHLE/PLO events respectively, as the $25,000 Heads Up Championship saw a collection of superstars face off at the felt in Las Vegas.
Chad Eveslage Wins Second Bracelet After Conquering Kelsall
Event #5 concluded with Chad Eveslage capturing his second WSOP gold bracelet as he took down the $10,000-entry Dealer's Choice event, beating Andrew Kelsall heads-up. After winning, Eveslage told PokerNews reporters: "The mixed atmosphere is much, much more laid back, we were joking around heads up." Kelsall failed to convert an overnight lead into gold, but for Eveslage it was a case of double delight as he won his second title.
WSOP 2023 Event #5 $10,000 Dealer's Choice Results:
Place
Player
Country
Prize
1st
Chad Eveslage
United States
$131,879
2nd
Andrew Kelsall
United States
$81,509
3rd
Nick Kost
United States
$54,247
4th
John Racener
United States
$36,953
5th
Clayton Mozdzen
Canada
$25,779
6th
James Johnson
United States
$18,428
Moncek Wins Second WSOP Title in Mixed Games
Michael Moncek won the second bracelet of his career as he conquered Event #6, the $5,000-entry Mixed No-Limit Hold'em/Pot-Limit Omaha. He took the top prize of $534,499 after a final table featuring players such as Kristen Foxen (7th for $69,683), Christian Harder (5th for $124,266) and Alex Livingston (3rd for $235,062) faded away to leave just two men battling.
Just as in Event #5, that battle was between the leader in Moncek and the overnight chip leader in the form of Fernando Habegger from Switzerland.
With a 3:1 lead, Moncek got the job done as the final hand saw Moncek take the title with a full house to claim the top prize of $534,499. Habegger's runner-up result was worth $330,344, a superb achievement nonetheless.
WSOP 2023 Event #6 $5,000 Mixed NLHE/PLO Results:

Place
Player
Country
Prize
1st
Michael Moncek
United States
$534,499
2nd
Fernando Habegger
Switzerland
$330,344
3rd
Alex Livingston
Canada
$235,062
4th
Michael Banducci
United States
$169,674
5th
Christian Harder
United States
$124,266
6th
Tyler Brown
United States
$92,362
7th
Kristen Foxen
United States
$69,683
8th
Ferenc Deak
Hungary
$53,377
Heads-Up Championship Drama as Polk and Kornuth Claim Round 3 Berths
The action was non-stop in the $25,000-entry Event #8 Heads-Up No-Limit Hold'em Championship as Doug Polk, Chance Kornuth and Landon Tice all progressed to the third round, the Round of 16, which will take place tomorrow.
There's a top prize of over half a million dollars in this event, but the winner of it will not be either Phil Ivey or Daniel Negreanu, both of whom departed on the first day of action. Ivey lost in Round 1 to John Smith, but while Kid Poker escaped the opening clash with Bin Weng, he couldn't beat Roberto Perez in Round 2.
Others who departed included Spanish star Adrian Mateos, Kane Kalas and Stephen Chidwick, who lost to Landon Tice in Round 2. Doug Polk made it through to Round 3 in consummate ease, taking out Shunta Smoeya and Thomas Eychenne on his way to a Round 3 date with Reiji Kono tomorrow. Polk and Tice can only meet if both men make the final showdown, but Tice in particular has a hard route to the final, with Chance Kornuth up next.
Gahshan Leads Tournament of Champions Final Table
In the Tournament of Champions, Jason Somerville was the last man to but with a previous WSOP bracelet win in his back catalogue. When play ended for the day, American player Wissam Gahshan (5,130,000) led the field, with Irish player Patrick White (3,885,000) second in chips, closely followed by Brent Gregory (3,400,000) and the Canadian player Justin Hotte-Mckinnon.
WSOP 2023 Event #4 Tournament of Champions Leaderboard:

Place
Player
Country
Chips
1st
Wissam Gahshan
United States
5,130,000
2nd
Patrick White
Ireland
3,885,000
3rd
Brent Gregory
United States
3,400,000
4th
Justin Hotte-Mckinnon
Canada
2,700,000
5th
Hunter Mcclelland
United States
2,700,000
6th
Ronnie Day
United States
2,300,000
7th
Barry Schultz
United States
2,005,000
David 'ODB' Baker Chases Third WSOP Bracelet in Limit Hold'em Finale
There are 17 players battling for glory in the $1,500 Limit Hold'em Event #7 as Jason Duong (1,615,000) goes into battle marginally ahead of the two-time WSOP bracelet winner David 'ODB' Baker (1,260,000). The only other player with a bracelet win in their history is Jason Gola (210,000), but he is the second shortest stack as play kicks off.
WSOP 2023 Event #7 $1,500 Limit Hold'emLeaderboard:

Place
Player
Country
Chips
1st
Jason Duong
Canada
1,615,000
2nd
David ODB Baker
United States
1,260,000
3rd
John Mullaney
United States
1,225,000
4th
Kerry Welsh
United States
1,185,000
5th
Matthew Dames
United States
1,175,000
Mystery Millions Welcomes Huge Field
Two other events wrapped up Day 1s on Day 4 of the 2023 WSOP, with over 5,000 players turning up to the Mystery Millions and just 281 players surviving by the close of play, Ryan Knight (2,050,000) and Tony Love (2,010,000) at the top.
In Event #9, the $1,500-entry Seven Card Stud event, 361 players were whittled down to 120 as Polish player Dzmitry Urbanovich (292,000), Chris Hundley (261,500), Shaun Deeb (255,500), Nick Schulman (241,500) and John Monnette (222,500) made up an incredibly experienced top five.
Every poker player arrives at the WSOP with the prospect of meeting their poker hero at the felt, but Jesse Lonis got a shout out from his on Friday night.
Stuff like this makes my life a dream. Growing up watching hundreds of hours of high stakes poker. This man was almost an imaginary character from a movie, now I'm in the movie 💪🏻 https://t.co/Tb2l8JvL2N

— Jesse Lonis (@JesseLonis) June 2, 2023
Barny Boatman broke down a potted history of The Hendon Mob as he described how the boys formed then sold one of the biggest brands in poker.
If you're a #poker player, you likely use https://t.co/cY4ggb4hAd.  But do you know @TheHendonMob's origin story?  We go Inside the Rail with @barnyboatman to find out. pic.twitter.com/lWiOaMV1Ls

— Poker Org (@pokerorg) June 2, 2023
Finally, Jeremy Ausmus isn't just great cards, he's perfected his ante game. These days, that can bring you rewards.
My man Ray J here gives you a starburst if you land your ante directly in the middle of the box. I received a pink starburst for my expertise in ante tossing 🏆 pic.twitter.com/RGFoh1xHgl

— Jeremy Ausmus (@jeremyausmus) June 2, 2023
PokerGO is the place to be for live streaming the World Series of Poker 2023. Sign up today and access all the action from Las Vegas, Nevada, the home of the WSOP.