WSOP: With Bracelet in Hand, Fedor Holz Retiring From Poker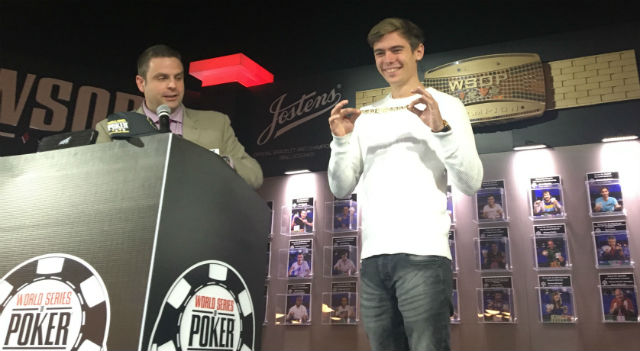 On Tuesday afternoon Fedor Holz stood on stage at the 2016 World Series of Poker and was awarded the bracelet he won in the $111,111 One Drop High Roller just two days earlier. In a quick speech he thanked his friends, his family, and the woman who cooked his food all summer long.

Barring a deep run in the Main Event, that just might be the last time the poker world ever hears from the German superstar.
"I'm not going to continue as a professional player," said Holz.
After winning over $10,000,000 in the last six weeks Holz says he's done with poker and is making plans to move on to the next stage of his life. He still has chips in the Main Event and returns to a stack of 93,300 for Day 1C on Wednesday. After the Main Event ends – whenever that is for him- the 22 year old plans on finding something else to do with his life that brings him a greater sense of personal satisfaction, he's just not sure what that is yet.
"I don't know. Find out: that's the mission I think," said Holz of what he wants to do next. "I think travelling will help me find my way. I want to try out a lot of different things."
In the last 14 months Holz has won $18,051,950 and has a bankroll big enough to let him try those different things.
"I think the biggest problem a lot of people have is that they don't know their options. In poker you experience a lot of different things," said Holz. "People have very unique jobs or have companies that are very special and I feel like there is something out there for me that I might enjoy a lot more than poker."
Holz still enjoys playing poker, but admits it's less than it was even 18 months ago when he took the #1 spot in the PocketFives rankings for the first time.
"I don't – but I think that's natural because the ceiling is just a lot closer. It's way easier to set goals and you improve faster and this feeling gives you this rush of progress and I'm a person that is very dependent on progress, I need it. That makes me happy and if I don't progress I just don't feel happy," said Holz.
The $18,000,000 in winnings moved Holz all the way up to ninth in all time earnings. He's now ahead of John Juanda, Jason Mercier and Mike McDonald.
---
Fedor Holz's Summer of Domination
Date
Tournament
Buy-In
Place
Winnings
May 27
Aria Super High Roller
$50,000
7th
$122,400
May 31
Super High Roller Bowl
$300,000
2nd
$3,500,000
June 3
Aria Super High Roller
$50,000
1st
$637,392
June 10
WSOP Six Max No Limit
$1,500
18th
$17,380
June 10
Aria Super High Roller
$25,000
1st
$393,120
June 16
WSOP Six Max No Limit
$3,000
47th
$8,716
June 17
Aria Super High Roller
$25,000
1st
$276,012.00
July 6
WSOP No Limit Hold'em
$5,000
39th
$15,823
July 07
Aria Super High Roller
$50,000
3rd
$407,310
July 10
WSOP One Drop High Roller
$111,111
1st
$4,981,775
---
Despite all of his recent success there are those that point out a good chunk of it came in big buy-in, small field tournaments. His three Aria Super High Roller wins, totalling roughly $1,300,000 in earnings, came against a combined 106 other players. The Super High Roller Bowl event that he finished runner-up in had just 49 entries. Holz doesn't disagree with the sentiment.
"The amount of money I've won makes it sound very impossible, but there are things in poker that happen that are way more unlikely than winning four 40-player tournaments in a row," said Holz.
Despite the success he had in those events, his early work at the WSOP wasn't bearing fruit early on and that didn't sit well with Holz. He got close early on, finishing 18th in a $1,500 Six Max No Limit event and Holz was worried that might be his only shot at a bracelet this summer.
"For sure it's frustrating. It's a very intense grind and you get like three opportunities a summer on average and you obviously want to close the tournament," said Holz.
All of that frustration, which included two more WSOP cashes for just over $20,000, disappeared after a 90-minute heads up battle with Dan Smith in which Holz came out on top to win that first bracelet and almost $5,000,000. He described winning a WSOP bracelet as the most special moment of his poker career and even a few days later was struggling to find the right way to quantify it.
"Because it was literally the perfect moment. Somebody asked me (earlier this summer) 'What's left?' and I was like. 'just a bracelet, that would be the only thing' and I feel like this really gave me everything. Poker gave me everything I have right now, well pretty much most of it and I feel very grateful for it," said Holz. "I don't know a fitting word. People ask me 'how do you feel?' or 'how has it been?', I can't describe it. I don't really know a word that describes the way I feel right now. It's just overwhelming, I guess."
While the bracelet is most likely going to end up being the exclamation point on a short, but impressive poker career, Holz admits he'd have made the decision to walk away from poker even if Smith had conquered him in the One Drop High Roller.
"I think so. I said it before, I don't think that changed too much but this makes it a lot easier, a bracelet was a very nice moment with my friends, it's a very nice accomplishment for myself," said Holz.
While Holz plans on taking some time to travel and figure out what he's going to do next, that's actually the thing that he's going to miss least about the life of poker pro.
"I'm very dependent on getting my personal time, recharging batteries, I can feel it that I'm drained and super exhausted after live trips and but that's also what I like because it's so intense," said Holz. "I feel like there are other things where you can have the same thing in a healthy environment, for example at home."
A player at the top of the game claiming that he's retiring is nothing new to the poker world. Mike 'Timex' McDonaldand Shaun Deeb both tried to walk away from the game at one point only to return.
"Let's say it like this, I play about 2000-3000 hours of poker per year, talking about it or coaching or playing, and I feel like I enjoy the top 400 hours of it and the rest is just like work," "I feel like right now I have the freedom to say 'okay, I'm just going to play the 400 hours that I really enjoy', and then it's a hobby. And I'm not the person that sits around and relaxes at the beach, so I will find something else."