2017 in Review: Accusations & Insults Ignite The Year In Grudges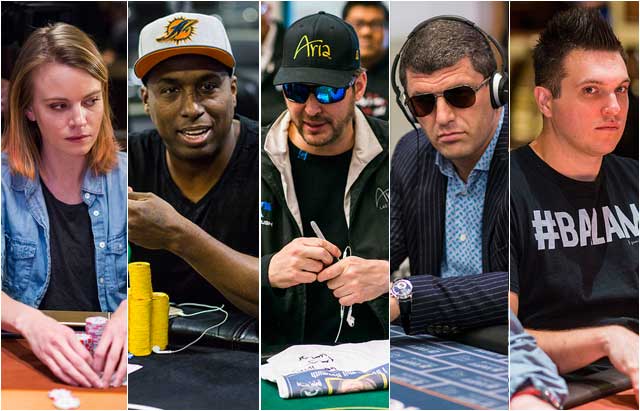 As the final days of 2017 slowly tick by, it's time to take a look back at the year in poker. Over the last 10 days of the year, PocketFives is taking readers on a trip back in time to recap the last 12 months in a fun and unique way.
To date we've gone over the top five off-the-felt news stories of 2017, the top heaters of the year, covered the game's newest characters and breakout stars. Now it's time to get into the he said, she said world of grudges
Mike 'The Mouth' Matusow vs. Shawn Sheikan. Tom Dwan vs. Dan 'Jungleman' Cates. 'Jesus' Ferguson vs. The Poker Community at Large.
Throughout the history of the game of poker, there's been no shortage of ill will, well-timed "needles" and downright disrespect among poker players. 2017 was no different with a number of hard-fought grudges developing over an assortment of disagreements.

#5 – Maurice Hawkins vs. Tim Reilly
An on-the-felt conflict led to a war of words off-the-felt this summer when 10-time World Series of Poker Circuit ring winner Maurice Hawkins clashed with Massachusetts grinder Tim Reilly.
Deep in WSOP Event #23, The Marathon, Hawkins and Reilly played a hand against each other where Reilly spiked a one-outer on the river to give him a royal flush against Hawkins aces full, allowing Reilly to double through Hawkins with only 22 remaining.
Then, depending on which of the two you speak with, the reported war of words not only spilled off the table but into the press with Hawkins claiming that Reilly said to him "This ain't the circuit. Go back to the circuit." and Reilly saying that Hawkins "literally lies more than anybody I've met in my entire life" and that his table talk was simply "trying to belittle him."
As the tournament intensified it seems so did their mutual dislike with the needles going back and forth. Finally, Reilly says he went up to Hawkins to try and squash the beef and apologize but, according to Reilly, Hawkins told "Hey man, you're a piece of ***.", right to his face.
Both players ended up at the final table with Hawkins finishing in ninth for $54,000 and Reilly in fourth for $224,000. Both went home with a grudge that likely won't soon be forgotten.
#4 – Doug Polk vs…Lots of Players
Doug Polk, the YouTuber who won the 2017 High Roller For One Drop for over $3.6 million, has never shied away from the spotlight of controversy and in 2017 he found himself fighting very public battles on many fronts. Not one to be without an opinion and an audience with an insatiable appetite for content, Polk tackled a number of issues troubling to him, firing shots at a variety of popular poker players in the process.
Just some of the items Polk took issue with were players who may or may not have angled on Poker Night in America by not having his big chips visible (Alec Torelli), players who may or may not have agreed to appear at televised poker games and opted not to show up (Matt Berkey), players who may or may not have tried to argue the notion that "more rake is better" (Daniel Negreanu) and players who lost a ton of money at the high stakes games on PokerStars (Luke Schwartz).
For, each of these issues Polk took to his Silver Play Button YouTube channel (or Facebook live) to call them out. But a good grudge isn't one sided and Torelli, Berkey, Negreanu and Schwartz all shot back, either defending themselves or attacking Polk directly, on their social media platforms and in the media.
Are the grudges real? There seems to be some very real disdain from each of these guys but for Polk, who every day is finding new ways to market himself, 2018 will likely find him embattled in brand new issues with a new cast of high profile players – and we'll likely be watching.
#3 – Phil Hellmuth vs. The Germans
Is there anyone who would disagree that the current contingency of German high rollers are crushing the game right now? Yes. Phil Hellmuth. Whether it's just his public persona or very real hubris, the 14-time World Series of Poker bracelet winner seems to think he's a favorite against the field in just about any No Limit Hold'em game.
After the 2017 Poker Masters, despite a lackluster performance, Hellmuth tweeted out he was "always the #1 seed" in NLHE tournaments and it started off a firestorm between him and Daniel Negreanu as to just how much of a favorite Hellmuth is in today's modern high-rolling circuit. Negreanu accusing Hellmuth of constantly muttering how bad all the players are, especially the Germans, and how disrespectful he was to their games.
For his part, Hellmuth claimed he was a "good guy" and even told Fedor Holz and, the eventual winner of the 2017 Poker Masters Purple Jacket, Steffen Sontheimer that "he liked them". When the war of words began to escalate into a big-time prop bet Hellmuth ended up easing off the gas but never conceding that he is always a huge favorite.
Sontheimer, for his part, kept it classy. In the media he talked about how he liked Hellmuth, but is more than willing to play him, just about anytime, anywhere.
#2 – Leon Tsoukernik vs. Matt Kirk
A late night high-stakes heads-up match at the Aria Casino in Las Vegas between King's Casino owner Leon Tsoukernik and "Aussie" Matt Kirk not only ended up with Tsoukernik losing $3 million of money he borrowed from Kirk but after a confusing series of events, the pair have found themselves in a bitter lawsuit in the Nevada court system.
Depending on who you listen to Tsoukernik, Kirk or even Dusk Till Dawn owner Rob Yong, who ended up as an intermediary between the two parties, Tsoukernik was either was too drunk to know what he was doing, simply lost a massive amount of money and refused to pay it back, or the pair struck a deal for a lesser amount which Kirk's "backers" refused to take. However you look at it, the situation is cloudy and now the lawyers are involved.
The lawsuit at first was simply Kirk wanting his $3 million back but now there is a countersuit from Tsoukernik claiming that the reports in the media that he refused to pay has damaged his reputation and he wants $10 million from Kirk for defamation of character and he also wants the Aria Resort & Casino in on the lawsuit for over-serving. Someone is not going to be happy at the conclusion of this saga and it's not very likely that the pair will be shuffling chips on the felt together anytime soon.
#1 – Cate Hall vs. Mike Dentale
A three month war of words between the two outspoken professional poker players, Cate Hall and Mike Dentale, reached its conclusion back in March after the pair booked a mini-HU4Rollz match on Poker Night In America, finally putting their money where their mouths were.
Dentale, very publicly, called out the play of Hall from a hand during the December 2016 World Poker Tour Five Diamond. Hall, eventually having enough, issued the challenge and before long the pair sat across the felt from each other with $15,000 playing $75/$150 NLHE in a best two-out-of-three match.
While Dentale may have started it with his comments online, Hall finished it off by sweeping the Brooklyn player in two straight matches, earning his $30,000 and, maybe, his respect? Not so much.
"Remember you will always suck," Dentale said to Hall during the match.
In the end, Hall took home the cash, Dentale apologized to his fans and both raised money for charity. All's well that ends well for the pair as both went on to earn six-figures over the course of 2017.