Erik Seidel's Online WSOP Bracelet Victory Might Just Be His Favorite
It was late in London. The early morning actually, and Erik Seidel, one of poker's most iconic figures, was back on the grind.
Already in the United Kingdom to celebrate his youngest daughter's wedding, the poker legend decided to extend his stay in the UK's capital to take care of some business. Specifically, the business of high-stakes poker. And at this moment, his deep run in GGPoker WSOP Online Event #11 ($10,000 Super MILLION$ High Roller) was taking him back to the beginning of his career.
"I haven't stayed up that late for poker since I was in my 20's," Seidel said, referring to the overnight hours of Day 1 of the gold bracelet event. "London isn't ideal for me because I'm a morning person and Day One lasted 'til the next morning."
Even casual fans are familiar with Seidel's impact on poker and his history that took him from the early days of Mayfair Club in New York to the Poker Hall of Fame in Las Vegas. His career has spanned 40 years and in that time he's earned nearly $38 million in recorded live earnings. He's a World Poker Tour champion and, prior to the online high roller he was playing in, had previously won eight WSOP bracelets, making him one of the most prolific players in WSOP history.
Seidel didn't know it at the time but after that sleepless night, he was just days away from adding to his legacy with WSOP bracelet #9. For a player who has experienced just about everything there is to experience in the game of poker, Seidel admits he still feels "out of [his] element online", making his victory one of the most unique moments of his career.
"I'm just never that comfortable online," he said. "I like it, it's nice to be able to play a tourney in bed, but I make mistakes. I had two misclicks at the final table. It's easier for me to get distracted and there's always that concern that I'll lose connection."
In fact, he did lose connection at one point while playing in his hotel on spotty Wi-Fi. But, obviously, the man they call Seiborg recovered nicely. He navigated his way through the field of 624 entries, made the final table, and bested a final nine that included Rui Ferreira, Isaac Baron, Thomas Muehloecker, and eventual runner-up, Francisco Benitez. When it was all over, Seidel won more than $977,000 and made WSOP history. He earned that ninth bracelet and moved into a tie with poker legend Johnny Moss for fifth (third-most) in all-time WSOP bracelets.
"Winning any WSOP event is special," Seidel said when asked where his online bracelet ranks. "This one was extra great for me because it was so unexpected. Getting through 600+ players and then the prize was close to one million, which I think is my biggest WSOP cash, felt really amazing. Might be my favorite."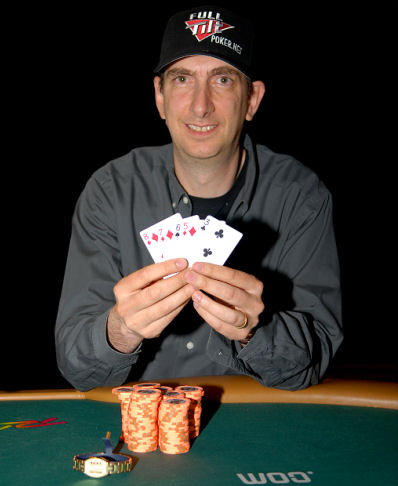 That said, as special as winning another bracelet is for him, 14 years after winning #8, Seidel hasn't been consumed with the bracelet chase as, perhaps, some other pre-poker boom prominent players.
"I can't say I really get caught up in bracelet fever," he said. "My focus has been much more on higher buy-in No Limit events. If you really want to rack up bracelets, you've got to play the high buy-in limit events at the WSOP, the No Limit fields are way too big. I play a limited amount of events at the WSOP, and I love playing them, but I'm not trying to maximize my chances by playing every event."
It would be tough for anyone to not want to push if given the chance to break into double-digit bracelets. It's well-known that there are currently only four players with 10 or more. Phil Hellmuth is the all-time leader with 15. And then, tied for second, all with 10, are Doyle Brunson, Johnny Chan, and Phil Ivey – a club that's hasn't admitted a new member since 2014.
Now, Seidel is knocking on the door. At 61, he says he has no intentions of slowing down and has set his sights on playing a healthy schedule at this year's WSOP.
"I love playing, I hope I can continue competing for a while. I expect to play 20-something events at the WSOP although I'm really disappointed in the WSOP schedule this year, the big NL events that I'd love to play in are all very close to Thanksgiving. I'll have to see if I can play them."