Florida Governor Rick Scott Supports Internet Gambling Ban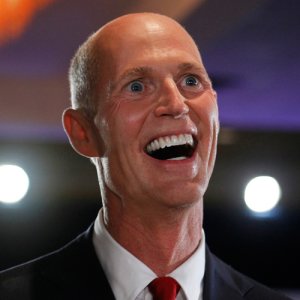 According to a statement posted on his Twitter feed, Rick Scott (pictured), the Governor of Florida, says he supports a ban on internet gambling in Florida and at the Federal level in the United States. Scott Tweeted, "Although a national ban would be a better approach, I support a ban on internet gaming in Florida."

Scott added that ousting internet gambling is in line with the state's recent actions toward internet cafes: "Last year, we outlawed internet cafes in the state – further cracking down on illegal gaming and helping to protect Florida families."
Florida eased restrictions on live poker in recent years, creating a boom in its card rooms, and was thought to be one of the next states to move forward on internet gambling, joining Nevada, Delaware, and New Jersey, all of which have regulated games.
Scott's comments prompted a host of responses on Twitter, where you can find him under the handle @FLGovScott, including:
"We need a Governor that believes in less regulation and less government."
"How about introducing some regulations to help protect the consumer instead of turning a victimless pastime into a crime?"
"I thought we lived in a free country. Guess I should trust you to make decisions for me. Florida doesn't want i-poker revenue?"
Poker Players Alliance Vice President of Player Relations Rich TheEngineerMuny (pictured) shared his two cents with Scott on Twitter, responding, "The Fraternal Order of Police say iPoker should be licensed & regulated, not banned. Please reconsider." He added, "This isn't about internet cafes. It's about adults playing person-to-person poker in their own homes on their own computers."
PokerTracker's Steve McLoughlin lent his thoughts on Scott's call for a ban on Muny's Facebook page, writing, "Interesting turn of events. Until recently, many of my peers predicted Florida would be online within 4-5 years. Sad."
At the national level in the US, Congressman Jason Chaffetz (R-UT) and Senator Lindsey Graham (R-SC) have introduced legislation to ban internet gambling and online poker, but preserve online wagering on horse racing, which received a carve-out. Both lawmakers have repeatedly turned down interview requests from PocketFives. Las Vegas Sands CEO Sheldon Adelson backs the legislation.
Check out PocketFives' Florida poker community for the latest news and discussion from Florida players. We'll keep you posted on the latest poker legislation headlines right here on PocketFives.
Want the latest poker headlines and interviews? Follow PocketFives on Twitterand Like PocketFives on Facebook. You can also subscribe to our RSS feed.