WSOP 2023: Brian Yoon Wins Seven Card Stud Championship, Denying Dan Shak the Bracelet
The latest day of action in the 2023 World Series of Poker saw a solitary WSOP bracelet won, as half a dozen other events saw the fields narrowed to final tables and Day 2 draws packed with potential for drama.
Brian Yoon won his fifth bracelet at the expense of Dan Shak, while Daniel Negreanu proved himself a 'Gladiator of Poker' as Day 9 made sure we were 'entertained'!
Brian Yoon Slays Seven Card Stud Finalists
If there's one thing better than winning a WSOP bracelet its doing so when you came into the mixed game event having worked really hard on this particular variant. Brian Yoon claimed his fifth WSOP bracelet of an incredible career with his defeat of Dan Shak heads-up for the gold. Upon doing so, Yoon told PokerNews reporters that he'd made a point of boning up on this game in the weeks leading up the Series.
"I've been working on this game a little bit," he said. "It feels nice to break through in a game where you weren't sure where you stacked up, and then you're able to win."
At an exciting final table, there was an early exit for the overnight chip leader Max Hoffman as he slid out in 8th place for $36,847. After Ben Diebold (6th for $59,688) lost his seat, the other table-topping Maxx at the start of play, namely Coleman, lost out in third place for $140,081 after a previous WSOP Player of the Year threat and Fantasy Draft regular pick Ben Yu busted. Shak was always behind in chips heads-up and although he battled hard and almost drew level, Yoon – and a first bracelet on American soil – got away from him, leaving him to collect the runner-up prize while Yoon held the gold and the top prize of $311,433.
WSOP 2023 Event #14 $10,000 Seven Card Stud Championship:

Rank
Player
Country
Points
1st
Brian Yoon
United States
$311,433
2nd
Dan Shak
United States
$192,479
3rd
Maxx Coleman
United States
$140,081
4th
Ben Yu
United States
$103,645
5th
George Alexander
United States
$77,985
6th
Ben Diebold
United States
$59,688
7th
Leonard August
United States
$46,484
8th
Max Hoffman
United States
$36,847
Hrabec Leads Last Dozen in High Roller
With late registration seeing players swell the overall field to 300, the latest $25,000 WSOP High Roller, otherwise knows as Event #16, concluded its Day 2 with just 13 players still in seats. One player to raise eyebrows as he entered was the 10-time bracelet winner Phil Ivey, as he was bumped right to the front of the queue.
When you're @philivey and you Day 2 late reg the $25k High Roller… you skip to the front of the line . #poker #WSOP pic.twitter.com/kahwg9YWFK

— Poker Org (@pokerorg) June 7, 2023
That entrance caused plenty of discussion with poker fan Jeff Matthews saying: "I bet [Daniel Negreanu] gets away with that as well! When you're on the poker 'Mount Rushmore' it's part of the perks!"
Forgiving Jeff's overuse of exclamation marks (!), Kid Poker himself replied: "Wrong. I wait in line with the rest of the sheep and you will see that in tomorrow's vlog."
To the poker, and it was Czech player Roman Hrabec who ended the day in the lead and it's a convincing one too. Hrabec bagged up just over six million fun-discs to leave others in the top ten such as Frank Funaro (5,065,000), Joao Vieira (4,090,000), Brian Rast (3,965,000), Isaac Haxton (3,820,000) and Darren Elias ((2,790,000) in his wake.
Interestingly, both Haxton and Elias have never won a WSOP bracelet, so there could be a new (or easier defined) name at the top of the 'Best to Never Win a Bracelet' list by tomorrow evening.
WSOP 2023 Event #16 $25,000 High Roller Leaderboard:

Place
Player
Country
Chips
1st
Roman Hrabec
Czech Republic
6,050,000
2nd
Frank Funaro
United States
5,065,000
3rd
Aleksejs Ponakovs
Latvia
4,470,000
4th
Joao Vieira
Portugal
4,090,000
5th
Brian Rast
United States
3,965,000
6th
Isaac Haxton
United States
3,820,000
7th
Taylor Von Kriegenbergh
United States
3,280,000
8th
Darren Elias
United States
2,790,000
9th
Lewis Spencer
United Kingdom
2,705,000
10th
Kristen Foxen
Canada
2,675,000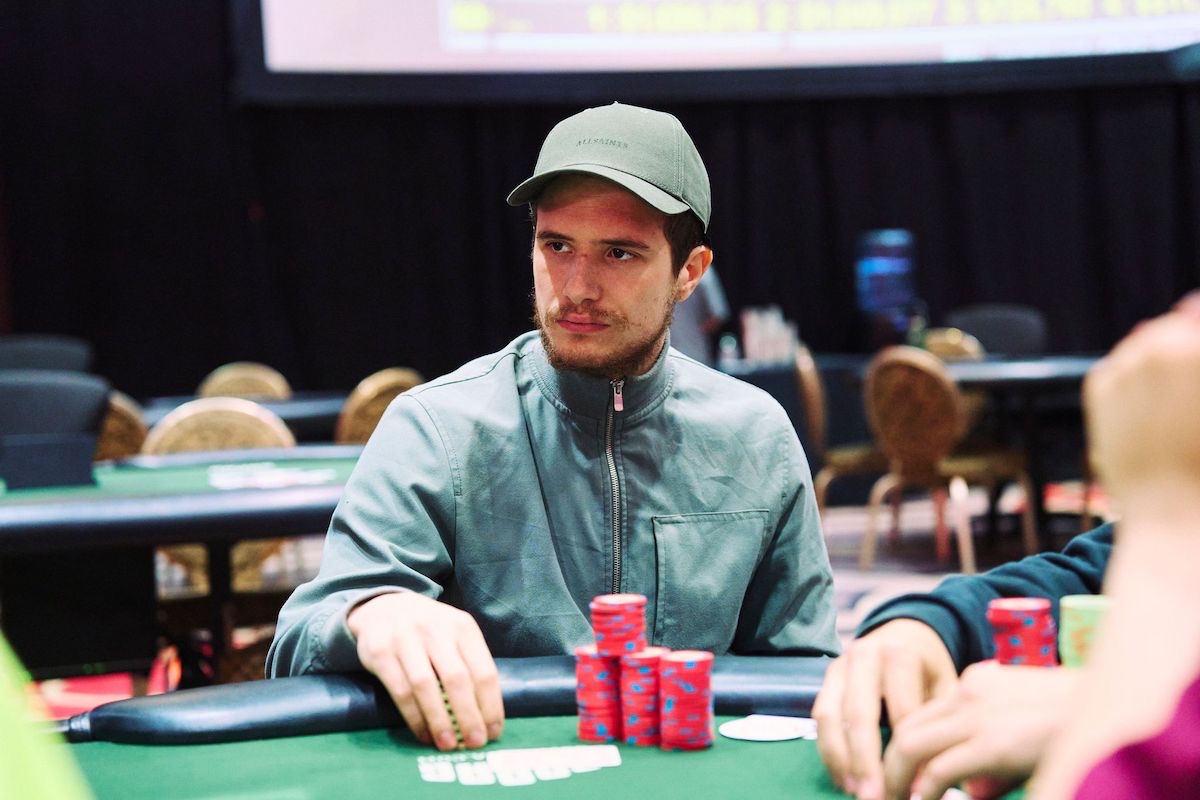 Kid Poker Wields the Fascina
Daniel Negreanu got down to business in the metaphorical sand as he battled to a top four stack on Day 1a of the $300-entry Gladiators of Poker Event #18.  This 'weekend warrior' type event saw 3,940 players take to the arena and while Patrick White (3,405,000) ended the day in the lead, it was the presence of Daniel 'Six Bracelets' Negreanu in the top four stacks with 2,250,00 that demanded headlines.
Kid Poker threw the fascina (it's a three-pronged trident which would be thrown like a harpoon in gladiatorial battles) to great effect, and with only 129 players making it through, could well be a top 20 stack of a thousand or so fighters when Day 2 commences in a few days' time.
WSOP 2023 Event #18 $300 Gladiators of Poker Leaderboard:

Place
Player
Country
Chips
1st
Patrick White
United States
3,405,000
2nd
Olav Prinzvonsachsen
United States
3,085,000
3rd
Dawn Dixon
United States
3,045,000
4th
Daniel Negreanu
Canada
2,250,000
5th
Juan Cisneros
United States
2,250,000
6th
Waikiat Lee
United Kingdom
2,225,000
7th
Bohdan Slyvinskyi
United States
2,090,000
8th
David Tran
United States
2,040,000
9th
Benjamin Klier
United States
1,760,000
10th
Julio Nava
United States
1,700,000
Herzali the Hero in No Limit Six-Max
French player Sarah Herzali enjoyed a totally dominant day at the felt in Event #15, where her No Limit Hold'em skills were obvious for all to see. Herzali built an incredible stack of 12.8 million chips on the penultimate day of this event, which has enjoyed a total field of 2,454 and will pay out a top prize of over $465,000 from a prizepool of $3.27 million.
Herzali is almost three times the average stack as she looks to close it out and become the first female bracelet winner of 2023, with Rafael Reis (7,825,000) in second place the only player with over half of Herzali's stack.
WSOP 2023 Event #15 $1,500 NLHE 6-Max Leaderboard:

Place
Player
Country
Chips
1st
Sarah Herzali
France
12,800,000
2nd
Rafael Reis
Brazil
7,825,000
3rd
Gabriel Schroeder
Brazil
5,615,000
4th
Ryan Hohner
United States
5,560,000
5th
Daniel Barriocanal
Spain
5,455,000
6th
Nikolaos Angelou
Greece
4,535,000
7th
Yue Liu
China
4,425,000
8th
Yun Choi
Great Britain
3,755,000
9th
Grant Wang
United States
3,045,000
10th
Ian Matakis
United States
2,270,000
Other Day 1 Events in Action
Several other Day 1s took place on Day 9 of the 2023 WSOP and there was not one Kyle but two at the top of Event #17's leaderboard when the last card dropped onto the river and players zipped up their chips. Kyle Burnside (2,345,000) leads from his namesake Kyle Cartwright (2,310,000) in this Omaha Hi-Lo 8 or Better event, with Jim Collopy (1,275,000) and Tomomitsu Ono (1,270,000) both ominously placed in the top 10 stacks.   
WSOP 2023 Event #17 $1,500 Omaha Hi-Lo Leaderboard:

Place
Player
Country
Chips
1st
Kyle Burnside
United States
2,345,000
2nd
Kyle Cartwright
United States
2,310,000
3rd
Erik Perry
United States
1,935,000
4th
Eric Varnado
United States
1,750,000
5th
Qinghai Pan
United States
1,680,000
6th
Ryan Scully
United States
1,300,000
7th
Jim Collopy
United States
1,275,000
8th
Tomomitsu Ono
Japan
1,270,000
9th
Jeffrey Mitseff
United States
1,215,000
10th
Mark Bixler
United States
1,205,000
The $2,500-entry NLHE Freezeout Event #19 saw a huge increase of 1,159 entries from last year's total of less than 80% of that number. With the money places reached at 172 players, former bracelet winners such as David Jackson (168th), Yuval Bronshtein (164th) and Femi Fashakin (161st) all claimed $4,011 as play ended with 144 players still in seats.
WSOP 2023 Event #19 $2,500 NLHE Freezeout Leaderboard:

Place
Player
Country
Chips
1st
Dinesh Alt
Austria
1,212,000
2nd
Byung Eun Shin
South Korea
797,000
3rd
Jared Jaffee
United States
780,000
4th
Artem Metalidi
Ukraine
761,000
5th
Adrian Mateos
Spain
758,000
6th
Mark Seif
United States
713,000
7th
Valentino Konakchev
Bulgaria
709,000
8th
Romel Mendoza
United States
665,000
9th
Ian O'Hara
United States
626,000
10th
Taylor Paur
United States
624,000
Badugi finally has its own event, and after Day 1 of its inaugural tournament, William Toh's superb stack of 239,000 is good for the lead in an event which saw 516 players reduced to just 183 survivors. Adam Owen, fifth on 192,000 will be a big threat with his mixed game experience.
WSOP 2023 Event #20 $1,500 Badugi Leaderboard:

Place
Player
Country
Chips
1st
William Toh
United States
239,000
2nd
Yingui Li
China
217,500
3rd
Adam Clegg
United States
212,500
4th
Jon Turner
United States
198,500
5th
Adam Owen
United Kingdom
192,000
6th
Roberto Marin
United States
183,500
7th
Patrick Moulder
United States
157,500
8th
Antonio Payne
United States
152,500
9th
Valentin Vornicu
United States
147,000
10th
Paul Martino
United States
146,000
Eric Baldwin has put his cards on the table in regard to who he's nominating for this year's induction into the Poker Hall of Fame. Judging by the comments, he has plenty of players in agreement.
Nominated @jeremyausmus

He doesn't go out of his way to talk about his accomplishments, so here is a list for those who don't realize what a career this guy has had: https://t.co/YhNzQAoGxa pic.twitter.com/Eslc8tjYTS

— Eric Baldwin (@basebaldy) June 7, 2023
Martin Zamani raised a point from the recent $25,000 High Roller in a very neutral way, inspiring other players to discuss the subject in a fair and balanced manner.
This loser @KaneKalas drew the bigblind just now max late reg In 25K and is upset he's the bigblind feels it wasn't random, asking for a refund. What a fucking joke. Now anyone can just freeroll the draw. Get the fuck out of here.

— Martin Zamani (@martin_zamani) June 7, 2023
Finally, as Doug Polk discovered, it turns out if you're unlucky in cards, you're lucky in… basketball?
Best NBA hoops score of my life, could have use the run hot in the HUNL lol pic.twitter.com/4mrXSvx3Fk

— Doug Polk (@DougPolkVids) June 6, 2023
PokerGO is the place to be for live streaming the World Series of Poker 2023. Sign up today and access all the action from Las Vegas, Nevada, the home of the WSOP.