High Stakes Poker: Doyle Brunson Runs Hot, Tom Dwan Gets Cooled Off
The third episode of PokerGO's latest season of High Stakes Poker continued to bring fans the nosebleed action they crave with Doyle Brunson showing off his skills over a multi-hand heater while Tom Dwan struggled to break out of his multi-episode downswing.
The majority of the same cast that finished the last episode remained in play the start of the next hour. Phil Ivey, Jonathan Gibbs, Brunson, Jean-Robert Bellande, Dwan, and Patrik Antonius all sat in their same seats. Daniel Negreanu slid to the opposite side of the table with the notable absence of 2021 WSOP Main Event champ Koray Aldemir who racked up and exited in-between shows.
Hot Start For Dwan
After being on the losing end of a pair of six-figure flips in the first two episodes, Dwan was looking to build some momentum in order to claw back some of the chips currently sitting in other players' stacks. Dwan started off by winning the first three hands of the night including a hand that played out like a session from when Dwan first burst onto the scene.
Brunson put in a raise to $1,400 from middle position with the
and Dwan, in the cutoff, made the call with the
. Antonius came along on the button holding
and Negreanu called from the small blind with his
. It was four ways to the
flop and after Negreanu checked, Brunson fired $3,200 with top pair. Bottom pair was good enough for Dwan to call and both Antonius and Negreanu released their hands. The turn was
and Brunson checked it over to Dwan who took the lead and bet $8,000. Brunson made the call and the dealer put the
out on the river, improving Dwan to two pair. Brunson checked and Dwan value bet for $16,000. Brunson quickly called and was shown the winner by Dwan who dragged the $60,800 pot.
DNegs Downs Dwan, Again
Dwan's resurgence was short-lived, however. On the very next hand, Dwan and Negreanu clashed again resulting in Dwan shipping another six-figure pot in Kid Poker's directions.
Dwan open-limped the $400 from early position holding
, bringing a raise from Antonius to $2,000 with the
. Negreanu was next to act and he flatted with
. Bellande tried to get in on the action from the big blind by calling with his
but Dwan limp-reraised to $14,000. After Antonius let his hand go, Negreanu sat stoically for a few moments before announcing a four-bet to $32,000. Dwan shot Negreanu a couple of quick glances while shuffling some of the $120,000 in chips he still had in his stack.
Eventually, Dwan made the call and the flop came
giving Dwan top pair and setting him up for trouble. Dwan checked to Negreanu who when for a $20,000 bet. The pot was $88,000 at this point and Dwan had just over $100,000 behind when he announced he was all-in. Negreanu didn't take but a second before grabbing a stack of yellow $1K chips and shoving them in the middle to call. Once again, the pair ran it twice. The first board was completed with the [qh turn and]
river. The second board ran out the
turn and
river and Negreanu, who is known for having a tough time on HSP, took down another monster pot, this time it was good for $272,600.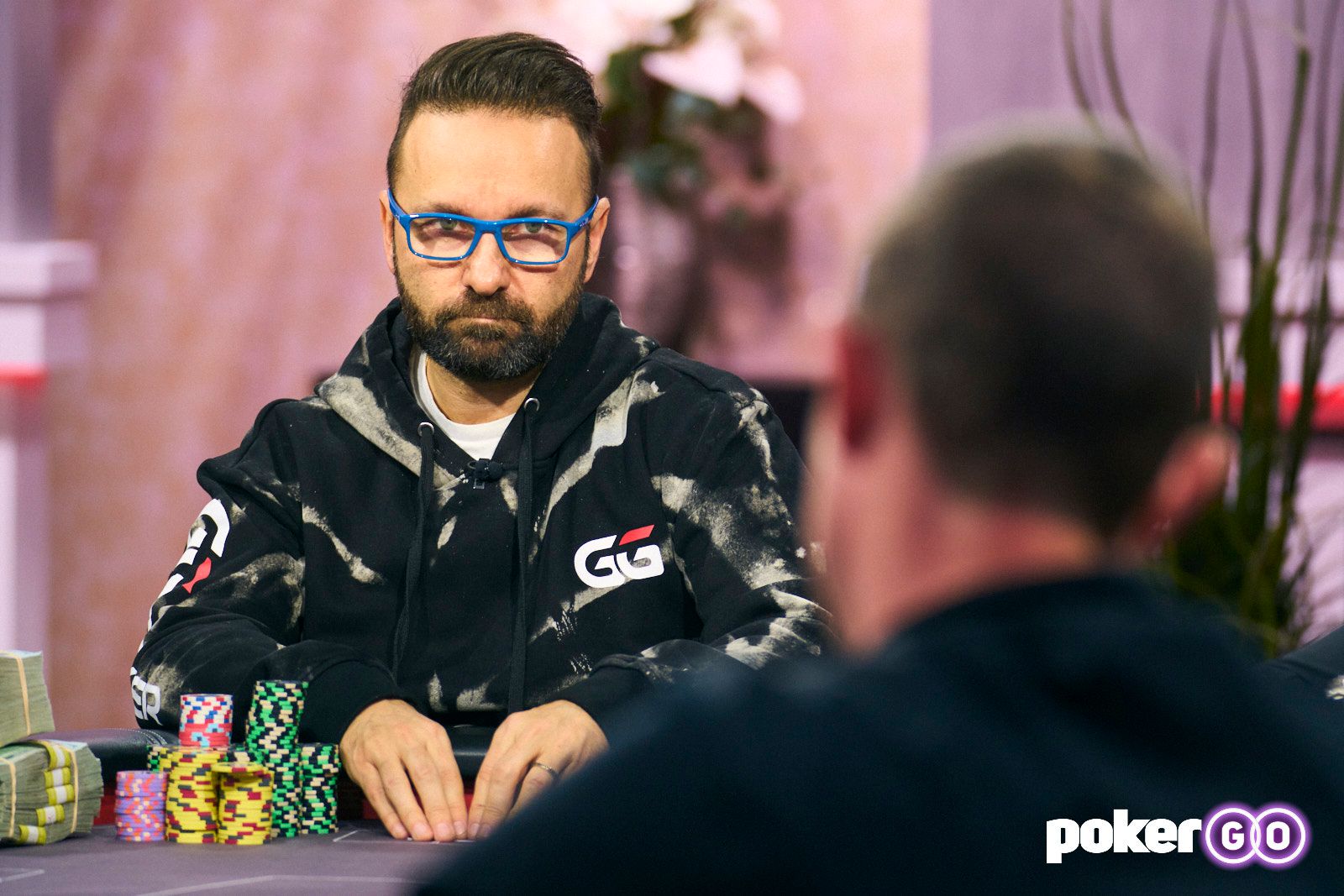 As Dwan reloaded for another $100,000, Negreanu and Ivey started chatting.
"You having some fun, you enjoying yourself?" Ivey asked Negreanu who couldn't hold back his glee from winning.
"Didn't you say one time I'm the worst winner ever," Negreanu replied.
"Pretty bad winner, yea," Ivey joked back.
"I can't help but giggle when I win a pot," Negreanu said, clearly enjoying sitting on a stack of nearly $350,000.
Jean-Robert Gets There
The very next hand was the only other six-figure pot of the episode and once again Negreanu was involved. Negreanu put in a raise to $1,000 with the
as the conversation continued. After taking a verbal shot at Brunson, calling him "lousy winner" and "grumpy, grumpy, grumpy", Bellande casually three-bet to $4,000 with his
. Back on Negreanu, he said "I'm running hot" as he splashed his chips in to complete the call. The
flop gave Negreanu top pair, but it was Bellande who was betting. When checked to, JRB fired $4,000 which Negreanu quickly called. The
on the turn changed nothing, and after Negreanu checked again, Bellande went for a large bet of $14,000 into the $16,800 pot. Again, Negreanu just called. Everything changed however on the
river, bringing in the gutshot straight for Bellande. Bellande overbet, throwing out $60,000. "That card might have saved me a lot of money," Negreanu mused, audibly breaking down the hand. In the end, Negreanu made the correct laydown and the $104,800 pot (inflated by JRB's final uncalled bet) was pushed to Bellande.
Brunson Can't Lose
After that last hand, there were only 11 more hands shown in the episode. Doyle Bruson won six of them and chopped another one. Even if, by the show's standard, the pots weren't for major amounts of money, it was a long stretch where Brunson was in every pot, making all the right moves, and stacking up the chips.
After five small wins, Brunson wanted to bump up the action and so he put on the straddle to $800. He turned to Bellande and gave him the old "um…Hello??" and Bellande noticed the $800 straddle was on and instantly made it $1,600 to go saying "Doyle, you don't have to ask me twice."
Dwan was first to act and made it $5,000 to go with his
, Negreanu joined in calling the $5K with the
. With $13,200 in the middle, Brunson, from the first straddle, looked down at
and made it $30,800 to continue. Bellande folded, Dwan quickly let his small suited gappers go, and Negreanu laughed as he surrendered as well. A big smile came across Texas Dolly's face as he exposed his pocket sevens.
"That's how you feel it," Antonius said.
"That was pretty sweet there, Doyle," Bellande said. "Still works at 88."
Brunson, Bellande, Negreanu, and Dwan all return for more High Stakes Poker action next Monday night at 8 p.m. ET, exclusively on PokerGO.