Isai Scheinberg: His Company, His Legacy, and How Black Friday Impacted Both
It's mid-December 2020 and a tennis court just north of San Jose, Costa Rica is home to one of the most hotly-contested tennis matches of the year. This isn't a battle between a couple of former top-ranked tennis pros and the stakes aren't all that high, but the combatants are going all out for a win.
On one side of the court is a 17-year-old spending her Christmas break from school hanging out in the Central American vacation hot spot. Her opponent on this day is her 74-year-old grandfather, a man fortunate enough to be able to spend a few months in Costa Rica hiding from the harsh Canadian winters.
He's not anywhere near the height of his athletic prowess, but that's not an excuse he'd use to take it easy. Each time he returns the fuzzy yellow ball across the net he does so with a hint of a life lesson in it. Work hard. Treat people with respect. Fight for what you believe in. Anybody who knows this man understands that there is no way he will simply let his granddaughter win a match, a set, or even a single point without earning it.
Isai Scheinberg just isn't built that way.
A Private Man Steps Into the Spotlight
Spending an afternoon in the Costa Rican sun is the closest that Scheinberg has ever come to thrusting himself into the spotlight. Ten years after poker's most infamous day, Black Friday, threatened to destroy the company he and his son Mark built, Scheinberg is ready to let the poker world hear from him for the first time.
"I valued privacy, but I was not secretive. That's not the same thing," Scheinberg says. "I was working hard. I was very busy and I'm not the type of guy to go out and do PR."
Scheinberg launched PYR Software in 2000 to build online poker tournament software in hopes of licensing it to online casinos and sportsbooks that were at the genesis of what would soon become the online gaming industry. Every company he and Mark pitched the product to either didn't understand or wanted to pay far less than what they thought it was worth.
"None of them understood software much, so they couldn't appreciate we had a terrific game. But then, we had absolutely no experience in online gaming," Scheinberg admits.
Scheinberg was 54 years old at the time and had left a job at IBM to venture out on his own. There wasn't a chance he was going to let somebody tell him he couldn't do something. Rather than settling for a partner they didn't want to work with, the Scheinbergs decided to take the product to market on their own. In 2001, PokerStars.com was born with Isai heading up the software company in Toronto and Mark moving to Costa Rica to run the gaming side of the business.
From Day 1, the market responded to PokerStars' software being so far ahead of any of its competitors. Scheinberg, who loved poker long before the idea of PokerStars ever struck him, had focused a lot of the development on multi-table tournaments. The marketing and tournament schedule followed that lead. The first PokerStars World Championship of Online Poker in 2002 was a nine-tournament series anchored by a $1,050 buy-in event. That might seem small compared to today's standards, but back then nobody else was even thinking about online poker tournaments the way Scheinberg was.
Most poker enthusiasts have a pretty good understanding of what happened over the next few years; the accountant from Tennessee, the 2003 World Series of Poker, and ESPN broadcasts helped launch the company into an entirely different stratosphere that would eventually make PokerStars the world's largest online poker site.
October 2006 shifted the online poker landscape, first in the United States, and then around the world. The U.S. government passed the Unlawful Internet Gambling Enforcement Act. PartyPoker and 888 abandoned the American market-leading some mainstream media outlets to claim that the law represented a complete prohibition of online gaming, including poker, in the United States.
Scheinberg wasn't convinced and PokerStars sought counsel from prominent U.S. lawyers and were told unequivocally that UIGEA did not prohibit games of skill such as poker. PokerStars, which only offered poker and not casino games like PartyPoker and 888 did, took these legal opinions and decided to continue to offer their product to American players. Other poker-only companies followed their lead.
The company also initiated lobbying efforts for federal online poker legislation in the United States that would have provided clarity to players, companies, and investors. PokerStars worked with regulators around the world and earned licenses in multiple European jurisdictions and reaped the rewards as poker's popularity soared around the world.
First Trauma, Then Calm
An early morning email on April 15, 2011, changed everything yet again.
Scheinberg was being told by company lawyers that he was being indicted by the United States Department of Justice and that the company was named as a defendant in a civil suit. A non-native English speaker born in Lithuania, he had to ask what the word "indictment" meant. He quickly learned that the company he spent nearly 10 years building into a monster was in serious jeopardy.
"That was very traumatic," Scheinberg says. Sitting in the Toronto office of PYR Software, Scheinberg took a deep breath, and rather than panic about what his own future might hold, he told his lawyers that his immediate concern wasn't the indictment.
"I said, 'Look, our priority number one is to pay the players'. We had the money and we wanted to pay. The lawyers told me, 'You're crazy. It will take a year or more. That doesn't happen that way'. But it happened in less than a week," Scheinberg says.
Understanding that the players – his players – would be in a panic, the Scheinbergs wanted to make sure that they understood he was going to take care of them.
"One of the first things we did was issue a press release reassuring players that their money is actually safe", Scheinberg explains.
In the ensuing conversations with the DOJ, PokerStars made it clear they wanted to get players paid as soon as possible. Recognizing that this served their interests as well, the DOJ agreed to allow PokerStars to process payments to American players and allowed the company to continue serving players outside of the country.
Players weren't the only ones who had reason to be scared about what Black Friday meant for them. Approximately 1,000 PokerStars employees were working in offices around the world and each had reasons to wonder if they may soon be out of a job. Just as they had reassured players, Isai and Mark did their best to put employees' minds at ease.
"The message to employees was that they are not losing their jobs," Isai says. In the days and weeks that followed, PokerStars offered any employee whose job was focused on the United States an opportunity to re-train in another area or skill so that they could continue to work for the company if they chose. The trauma of seeing his name in the indictment wasn't something Scheinberg was willing to let his employees see or feel.
Black Friday exposed Full Tilt Poker's financial malpractice and shined a searing light on the charlatans behind AbsolutePoker/UB. As mainstream media around the world covered the story, they spoke about all three companies as if they were the same. PokerStars soldiered on and Scheinberg is proud to point out that not a single regulator anywhere in the world pulled PokerStars' license due to the U.S. charges.
It soon became quite clear that Full Tilt wasn't going to be able to pay its U.S. players the way PokerStars had. When Full Tilt's European license was revoked, the company shut down completely. The millions of players who had money in their Full Tilt accounts were faced with a previously unimaginable scenario; their money was gone forever.
That's when Scheinberg lofted the idea of stepping in to bail out Full Tilt players. He was immediately met with resistance from his advisors who had been in settlement negotiations with the DOJ.
"Why don't you suggest that we buy Full Tilt from the government and pay the players?" Scheinberg asked.
The response from the company lawyer: "That's totally crazy…it's never happened before."
Scheinberg was aware that the US government was in talks with third parties to sell Full Tilt's assets.
"These buyers didn't want to fully cover the money to pay the players," Scheinberg recalls. "The government was under a lot of pressure from U.S. players and also international players because again, there were hundreds of millions of dollars on the line."
The government eventually accepted Scheinberg's "crazy" proposal and PokerStars purchased the Full Tilt Poker assets from the U.S. government and made sure that American players with a balance on Full Tilt Poker on Black Friday were paid in full. PokerStars also reinstated Full Tilt's international operations and paid those players who had lost nearly $200 million when the site closed.
Meanwhile, Scheinberg continued to negotiate with U.S. prosecutors for the charges he was facing and was told he could continue to work for PokerStars while those negotiations were ongoing.
"I was very upset when people called me a fugitive," Scheinberg says. "I've never been an American citizen or resident and I wasn't in the U.S. since 1999. I didn't flee the jurisdiction and I was not hiding."
In 2015, he even held face-to-face meetings over two days in London with the U.S. prosecutors. The meeting resulted in an agreement to drop bank fraud charges from any future plea agreement, but not the gambling charge.
All of this is why what happened in June 2019 came as such a surprise. After traveling around the world, including multiple trips to Canada, the United Kingdom, Italy, Israel, and the Isle of Man – all countries with extradition agreements with the United States – Scheinberg, who says he always informed local authorities that he was coming, had never worried about running into an issue when abroad.
While vacationing in Switzerland with his wife, Scheinberg was detained by Swiss authorities at the request of the DOJ. While he initially planned to oppose extradition, Scheinberg eventually decided to waive the proceedings and travel to the U.S. to resolve the case once and for all.
On January 17, 2020, Scheinberg landed at Kennedy airport in New York City where authorities were waiting for him. He was processed at the airport and immediately brought to the court. Scheinberg pled not guilty to all charges and was released on a $1 million bond on the same day and promised not to leave New York City.
More than two months later, Scheinberg arrived at a NY courthouse to plead guilty to a single count of operating an illegal gambling business. That plea, which made him the final of the 11 Black Friday defendants to plead guilty, came with a maximum five-year sentence. However, Scheinberg's lawyers successfully argued that he should not be further punished since the company was operating in the United States on legal advice that said offering poker was not illegal, he had been in contact with the DOJ since 2011, was active with numerous charities around the world, and that the company had paid more $300 million of Full Tilt's debts. In his ruling, the judge called Scheinberg's conduct "a mistake" and sentenced him to time served and was immediately released.
For more than nine years, Scheinberg felt the weight of the Black Friday charges hanging over his head. He knew they would be resolved one day – one way or the other. Now, he can't help but see some practicality in the outcome.
"For example, when the indictment was pending some banks were reluctant to open an account for me. Because in their mind when it's not settled, who knows? But when it's settled, it's settled," Scheinberg says.
The Gamesman
As his granddaughter will undoubtedly attest, Scheinberg has a competitive side that hasn't
slowed down at all. The one-time poker nerd who dreamed of winning a WSOP bracelet long before Chris Moneymaker won the WSOP Main Event, has turned his attention to a game that has recently captured the imagination of an entirely new generation of players the way poker did back in 2003.
"Today, I play a lot of chess," Scheinberg says. "That makes me happy."
While Scheinberg has put in time and energy to become a better player, he also comes by it naturally. His father, Matafia, represented his native Lithuania in the Chess Olympiad in the early 1930s. Scheinberg owns a copy of a book that details the games his father played in those events, including analysis from top grandmasters, and proudly shares it with anybody who shows an interest in the game.
Just like poker, Scheinberg isn't interested just in playing. Scheinberg, along with his son Mark, is one of the key investors in Chess.com and his years of experience running PokerStars makes him an invaluable asset as that company grows. When it came to deciding to put money there, Scheinberg didn't necessarily look just at the technology or the software, he looked at who was running the company and if they shared his values and ideals for running a business.
"The reason we invested and we joined them is because they are very good guys, and they bring the business principles of being transparent, and honest, and they treat customers well," Scheinberg says.
Crediting the much-heralded Netflix series The Queen's Gambit for sparking an interest in chess in the general public, Scheinberg can't help but draw parallels between that and what Moneymaker did when his WSOP Main Event win aired on ESPN. Much like he did in the early years of PokerStars, Scheinberg relies on his experiences as a player to influence his ideas for ways to help the company grow.
Scheinberg chuckles at the idea of getting back into the world of poker but doesn't shut down the possibility altogether. The family sold the company to Amaya in June 2014 for $4.9 billion in a transaction that was largely driven by the inability of the company, under their ownership, to gain a gaming license in New Jersey.
The company originally had plans to purchase The Atlantic Club Casino Hotel and offer PokerStars to New Jersey residents through that gaming license. Scheinberg says Black Friday was not what created the greatest challenge to PokerStars gaining a license in America. In early conversations with New Jersey regulators, company lawyers asked whether there would be a legal objection to giving PokerStars a license.
"The regulators went to the DOJ and they asked, 'Are you going to have a problem with PokerStars getting the license in New Jersey?' And the DOJ said no, they would not have a problem. So the regulators came back and told our lawyers, 'Fine. Of course, we cannot guarantee it, because we will check the company as we did all the other companies,'" Scheinberg says. "That was not a problem as we knew the company had no issues with its operations. However, our competitors raised hell and complained in every direction and they delayed the process. People from the New Jersey Division of Gaming Enforcement already had plane tickets to come to the Isle of Man to interview (PokerStars management). And they canceled at the last moment."
Scheinberg says that pressure from those competitors, directed towards both the DGE and Atlantic Club Casino ownership, led to that deal falling apart. Despite having private assurances that there would be no licensing issues for PokerStars, the company found itself facing the same hurdles after striking a deal with a second property, Resorts Casino.
"So, this time we didn't buy (the casino), but we made a deal to offer our poker product with them," Scheinberg says. "The DGE came at the last moment and they said no. It was unexpected and the announcement from the (DGE) was very unclear. They said they had some conditions."
Scheinberg was told he either had to settle his case or there needed to be "major changes in the company". It was then that the company's fortunes shifted again.
"And that was the moment when we said, 'what the hell. we'll get out of that.' For the sake of the company, for U.S. players to be able to play on PokerStars, we need to change the ownership. So, it was a combination of feelings, but that was the trigger, that they didn't let us get a license there," Scheinberg says.
The Scheinbergs had already shooed away Amaya and their ambitious CEO David Baazov once, telling them PokerStars had every intention of launching in New Jersey. With that no longer an option, the two companies entered into negotiations that ultimately led to the family selling the company. The $4.9 billion proceeds didn't all go to the family, and neither did their share. Long-time PokerStars employees who didn't have equity in the company say Isai and Mark were both quite generous with them after the sale. For them, it was about taking care of the people who had helped them build PokerStars.
"We ran the company all the time that way. Of course, class and grace were the most important thing. We didn't fire anyone after Black Friday and employees were a big part of the success," Scheinberg says. "Employees were part of the business. A big part obviously in every company, but in our company, we felt that the employees were an extremely important part."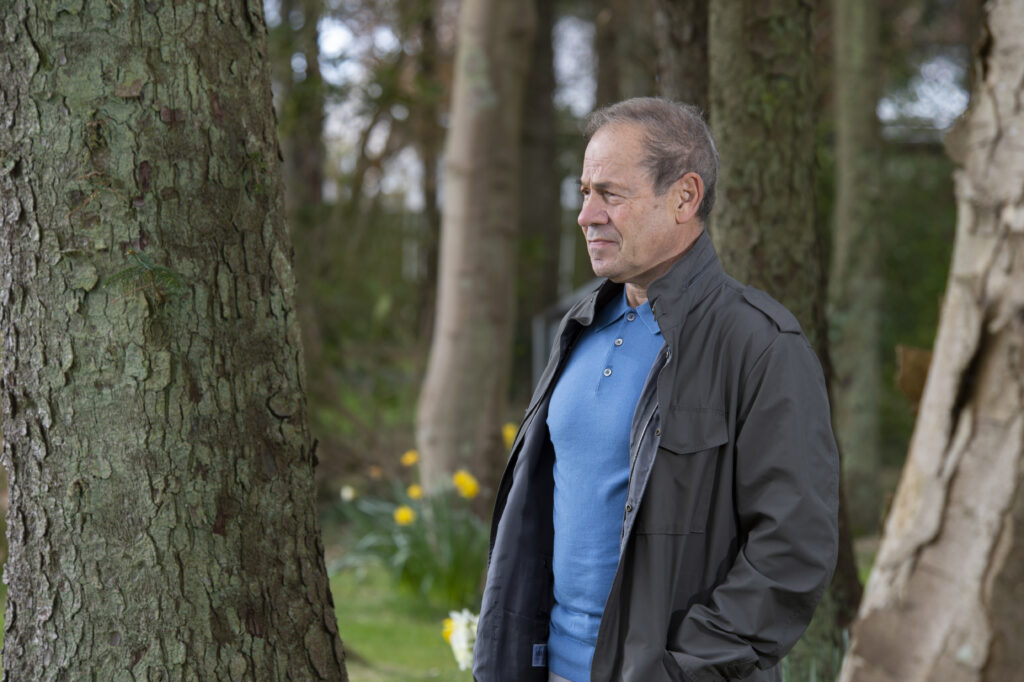 Seven years after the company was sold, Scheinberg looks back on his time in the poker industry and believes his legacy will be defined by the principles with which he ran the company through good times and bad.
"We created a lot of things that helped poker grow and be more respected and more enjoyable and I'm pleased that is the legacy," Scheinberg says. "And the fact that we paid players and players did not lose their money (on Black Friday) was also very important. I think that commitment to players and doing the right thing by them is the legacy."
Being the owner of another one of poker's most enduring and endearing brands almost became another pillar in Scheinberg's story.
"Actually, at one time we were offered to buy the Rio Casino, but there was a reaction of 'We don't need this. Why would we buy?' In hindsight, I think it was a mistake. I thought that if we bought Rio, we would own the World Series and make it better," Scheinberg says. "We probably would do a lot of things to make it very friendly to players. We planned to increase the prize pool. We would make a guaranteed prize pool of $100 million in the Main Event and a lot of things around that. When I was talking to Steve Wynn, and we had a deal with him (in March 2011), we were discussing that and he was very excited and we probably would move WSOP to a better facility."
The relationship between PokerStars and the World Series of Poker since Harrah's acquired it in 2004, could best be described as a competitive rivalry. Last November, Scheinberg was named one of ten finalists for the Poker Hall of Fame. It was the first time that the WSOP, who control the PHOF, listed Scheinberg as a finalist despite years of lobbying from poker heavyweights, including former Team PokerStars Pro and current Hall of Famer Daniel Negreanu.
"There were a number of people who were trying to put me (into the Hall of Fame). I never tried to lobby or anything. Harrah's or Caesar's were not big friends of ours. We were their competitors, so they were blocking that, but yes, (the nomination) was surprising, but look, the case has settled (and) that's one thing that probably helped that," Scheinberg says.
He hasn't been to the WSOP since 1997 and still has a love for poker that he believes could see him sitting at a table inside the Amazon Room at the Rio very soon.
Now, with PokerStars and Black Friday clearly in his rear-view mirror, Scheinberg looks back at what he created, his impact on both the game and the industry, and says he has no regrets, with one important exception – the months leading up to Black Friday.
"I do wonder if we should have been proactive with discussions with the DOJ, especially in early 2011 after the federal online poker bill didn't materialize," Scheinberg says "We could have entered into a direct dialogue with them. That might have prevented Black Friday."
That one lingering thought about what might have been doesn't consume his thoughts though. Almost seven years after Scheinberg sold the company, PokerStars continues to be the world's largest online poker operator and that, he says, will also be part of how his time in poker is remembered. Today, Scheinberg is happy to be able to spend time with all three generations of his family, even as one of the youngest is staring him down while serving for match point.
"The best part of my life, I have a happy family life. I am happily married for 53 years, I am proud of my sons' achievements, I have three grandkids, and I love what I do."
Photos via Andrew Barton