Pocket Up To $100K in 888 poker Treasure Quest Promo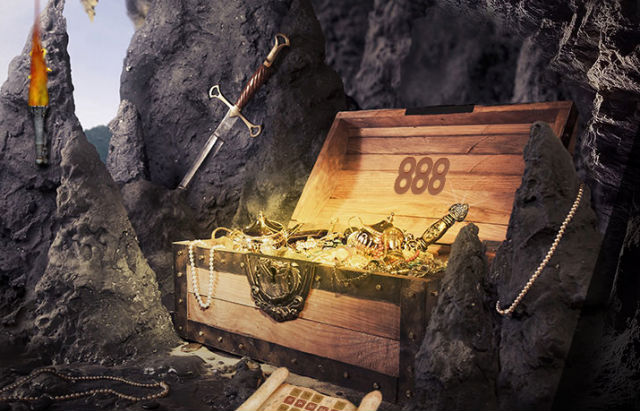 Just a few days into the New Year, 888 poker has already kicked off its promotional schedule for 2017. On Tuesday, the Gibraltar-based site announced a pirate-themed promo called Treasure Quest, in which players can win awards of up to $100,000 each.
The $1 million guaranteed Treasure Quest is a multi-day challenge, where players must complete portions of a map in exchange for unlocking treasure chests filled with either cash or tournament tickets. These challenges can include things like winning with specific hands, playing in tournaments, finishing in the money or playing in Blast fast-fold games.

Prizes and Odds
Each day after logging in, users will find a new Daily Pirate's Challenge awaiting them. Complete one challenge, and you'll win one of the following prizes:
One ticket into the daily $6,000 Pirate's Prizes Tournament – 80% odds
Two tickets into the daily $6,000 Pirate's Prizes Tournament – 13% odds
$1 – 5.9% odds
$5 – 1% odds
$50 – .1% odds
The Daily Pirate's Prizes Tournament runs every day at 21:08 GMT until February 25. 888 is also running a twice-daily $1500 Treasure Quest Tournament, which runs at 11:04 and 17:04 GMT and allows entry for any players who have made at least one deposit in the 888poker cashier. Those who have made previous deposits before the start of the promotion will receive an extra reward in the form of four free Pirate's Prizes Tournament tickets, claimed via the promotional email/pop-up in the 888 software lobby.
When you complete five challenges running either across or down the treasure map, you'll be randomly awarded with cash bonuses up to $5000.
$5 – 82% odds
$10 – 14.99% odds
$50 – 2.9% odds
$500 – .1% odds
$5000 – .01% odds
Completing the entire map will increase your prize potential to the maximum level, making you eligible to receive a payout of up to $100,000.
$20 – 87.489%
$100 – 12%
$1000 – .5%
$10,000 – .01%
$100,000 – .001%
Only players who have deposited and made a bet of at least $1 in the past 12 months are eligible to win prizes in the Treasure Quest promo. To see your Daily Challenges, log into your account and click the Daily Challenges banner in the 888 lobby. Keep in mind that if you are lucky enough to win any cash prizes, the 888poker bonus policy will apply, meaning that before withdrawing a dollar, you'll need to accumulate 3.5 bonus points. Any awards over $5000, however, will not come with a wagering requirement attached. For more info on the Treasure Quest promo head over to 888poker.com.