PokerGO Tour's PLO Series a Huge Success as Cabrerizo Celebrates Victory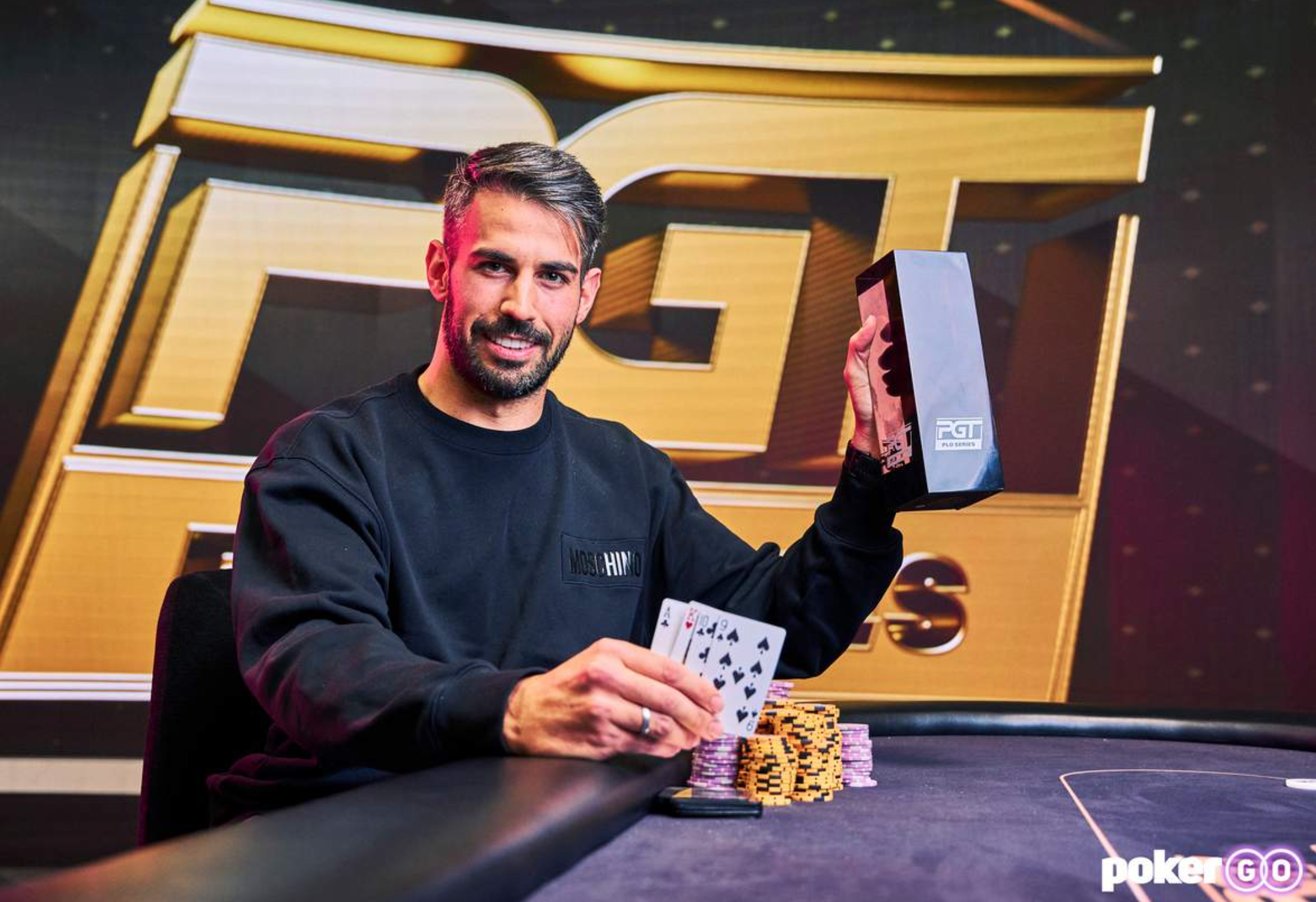 The PokerGO Tour's recent PLO Series celebrated the four-card game like never before, with hundreds of players arriving for multiple events of the nine that took place. Across the series, mixed game poker's reputation flew higher than ever and with just 69 days to go until the 2023 World Series of Poker, PLO is right back in the spotlight.
Cabrerizo Wins Overall Leaderboard
In the nine events that took place, Spanish player Lautaro Guerra Cabrerizo performed by far the best, winning three of them. That astonishing record didn't actually begin until the middle pin of the series, as Cabrerizo won the $10,000 entry Pot Limit Omaha Event #5 for a top prize of $220,400. Having started winning, however, Cabrerizo could barely stop.
Two events later, Cabrerizo won Event #7, the $15,000-entry PLO Bounty event for $228,000, before taking his third title in four events by capturing Event #8. That cost $25,000 to enter and was the PLO Championship, the Main Event of the series. The top prize of $518,750 was the biggest Cabrerizo had won in his entire poker career so far, meaning that he won and overall leaderboard-topping score of $967,150 (774 points).
To say it was a long way back to Cabrerizo's nearest challenger would be an understatement. Jim Collopy ended the tournament with $409,800 in winnings and 343 points, with Argentinian player Nacho Barbero, the subject of this week's 15 Bigs, banking $380,900 after accumulating 331 points. With Sean Troha ($269,600 and 266 points) rounding out the top four, Cabrerizo's dominance was clear to see.
Arieh: Nothing Compares to Playing in the PokerGO Studio
"Nothing compares to playing in the PokerGO studio." ~ Josh Arieh, 2021 WSOP Player of the Year.
Coming in fifth place and earning more than Troha with earnings of $305,750 across the series was the 2021 WSOP Player of the Year and three-time WSOP bracelet winner Josh Arieh. The passionate PLO player and creator of PokerStake, which put many PLO Series players' action up for sale during the series, complimented the organisers on a superb series.
"Nothing compares to playing in the PokerGO studio," he told us. "It's the closest thing a poker player will ever experience to an office setting. You don't have to deal with the casino at all; the staff are amazing and they make everyone feel very important."
As well as the surroundings, the service element to the surroundings is something that Arieh also believes deserves praise.
"The dealers are top-notch. They comp your food and if you start on time, it's juice free. The list goes on and on."
That's not only been the case for the PLO Series, but for other PGT events too. If you register and are in your seat for when the tournament begins, you don't pay any registrations fee; a major plus for budgeting a high roller series for any player. This PLO Series has been a unique experience for everone, Arieh included.
"It was the first of its kind. It's nice to get to play PLO every day!" he says. "It's a very popular game that is growing worldwide and it's cool for the premier tournament location to showcase it for an entire week."
Other Players Who Won 2023 PLO Series Events
With nine events in all, the other six winners each won an individual tournament. Daniyal Iqbal won the opening event, which incredibly had 200 entries and 140 unique players (see below). Other early winners included the Event #2 winner Allen Shen from Canada, who won the $3,000+$2,000 PLO Bounty event, a novel twist on the usual action.
Nacho Barbero's recent success saw no-one surprised at his triumph in Event #3, the first $10,000 buy-in event of the series, and his victory was followed by one for Sean Troha. His sole triumph came in the Pot Limit Omaha Hi-Lo, arriving one event before Cabrerizo won the first of his three titles. Sandwiched in the middle of those victories for the Spaniard was a win in Event #6 for Jim Collopy, who took down the PLO/PLO8/Big O Mix event for $206,400, over half of his series winnings.
After Cabrerizo won Events #7 and #8, the final event was a $2,200 PLO event with five cards instead of four, with Dutchman Ronald Keijzer coming out on top to the tune of $43,700, with the 'saver' event still attracting 95 entries, a strong end to a phenomenal series. After a superb set of nine PLO events, here were the final standings in the leaderboard's top 10:
2023 PokerGOTour PLO Series Leaderboard Top 10

Place
Player
Winnings
PGT Points
1st
Lautaro Guerra Cabrerizo
$967,150
774
2nd
Jim Collopy
$409,800
343
3rd
Nacho Barbero
$380,900
331
4th
Sean Troha
$269,600
266
5th
Josh Arieh
$305,750
264
6th
Ren Lin
$382,750
242
7th
Isaac Kempton
$214,290
209
8th
Eelis Parssinen
$207,600
208
9th
Jonas Kronwitter
$203,200
203
10th
Maxx Coleman
$229,000
196